Presumably, many readers of this blog regard my fascination with roof clutter as a mere eccentricity, perhaps a consequence of me getting old. But, I believe that there is more to it than that. I mean, for starters, there is just, in a place like London, so much of it.
One matter illuminated by observing roof clutter is that one is thereby observing which parts of a city are, so to speak, part of the public performance, of the stage scenery as seen by the audience; and which parts are the mere behind-the-scenes clutter by means of which the appropriate public appearances are created, and by means of which the merely mechanical purposes of the buildings are kept going. And one of the things about this division is that it keeps needing to be changed, to incorporate the new ways people look at their city. They start looking down on it, from tall new buildings, for instance. Which causes all sorts of aesthetic oddities to be experienced. Like observing a vast see of roof clutter of a kind never originally intended to be observed at all.
This roof clutter photo strikes me as especially striking: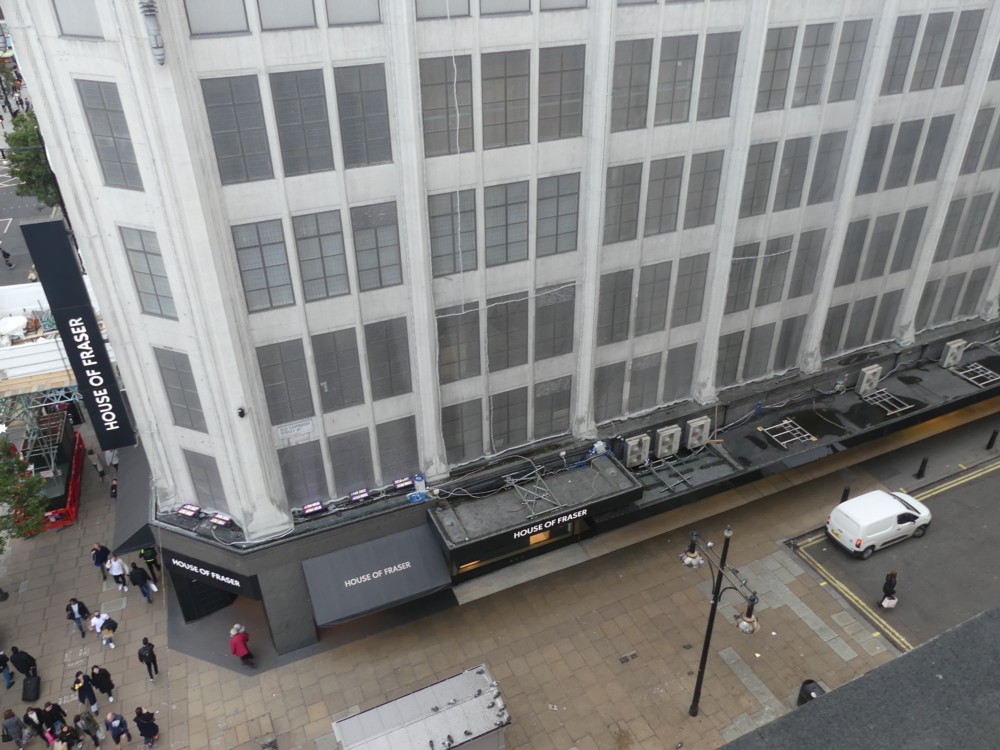 Yesterday I attempted to visit the roof garden of John Lewis, as resolved during the previous posting. But it turned out this roof garden is shut for the next three weeks. I only got as far as the floor beneath the roof garden. And it is amazing what a difference that small difference in height makes to what you can see. It's the difference between dreariness and all manner of distantly visible excitements. Also, when I got to this not-quite-top, the weather was pretty dreary, so I didn't stay long. But I did photo the photo above.
How come this particular stretch of roof clutter is so near to the ground? Why has't it been tidied up. Why hasn't it been arranged, prettified? Why hasn't it been "designed"?
The reason is that in the normal course of things, nobody would ever look down on it.
This is because department stores are typically not places where you are supposed to be looking outwards, through the windows of the store. You are there to look inwards, at the produce on display, and to buy some of it.
Look at the department store windows in the above photo, the ones above the roof clutter. They aren't real windows! They may have glass and everything, but they aren't there to be looked out through. They are there to disguise the brute fact that a department store is a big box, with walls you aren't supposed to be looking through instead of spending money.
And that part of Oxford Street is all department stores. So, when it comes to the roof clutter in the photo, nobody's looking. This stuff is invisible. The only people looking at the facade of the House of Fraser are at ground level, and even they aren't really looking. For them, a pavement is mostly a machine for walking along and a department store is a mostly machine for shopping in. What mostly matters to them about the House of Fraser is all the signs saying "House of Fraser" because that tells them what sort of stuff is inside.
There is also, of course, a decidedly backstage atmosphere to this entire little street.
Here's what happens to a roof which, for some of the time at least, is often looked down upon, out of office windows for instance. Offices have real windows (and it occurs to me that one reason for the fake windows in the wall of the House of Fraser might be if they want to turn a bit of the store into an office, or maybe even convert the entire thing into an office (but I digress)):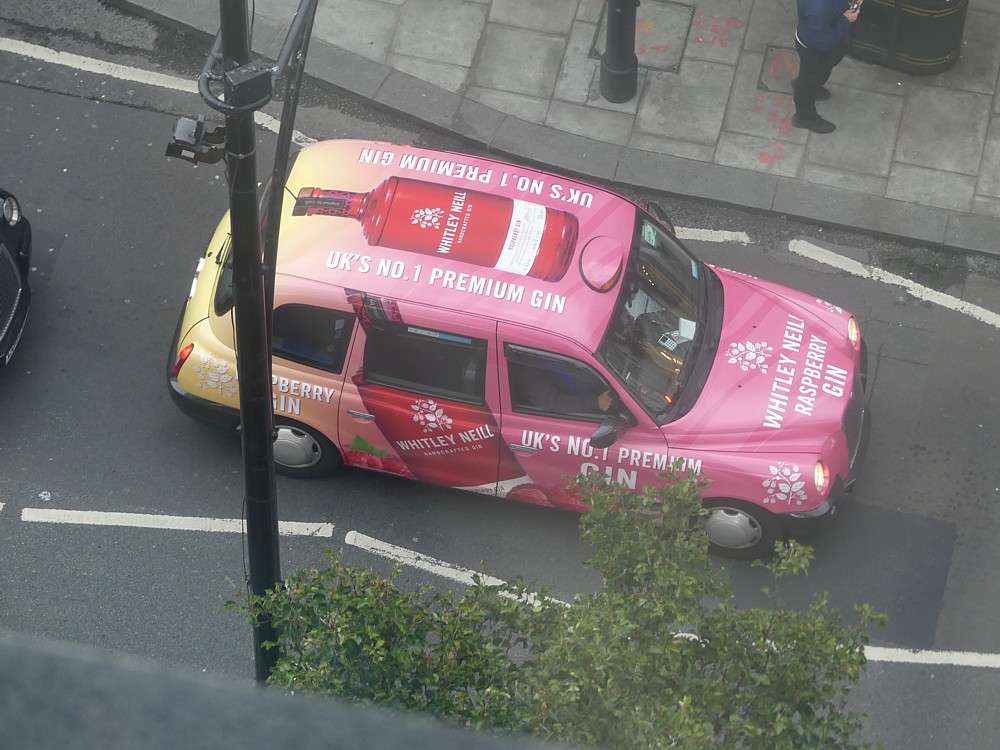 I was only able to photo these photos because of the rather recent (?) habit of turning the tops of department stores, and office blocks for that matter, into observation decks, where food and drink can be sold and where the city, publicly impressive or merely cluttered, can be observed from above.