To take my mind off England losing another game in the Cricket World Cup, this time to Sri Lanka, here is an altogether better cricket story: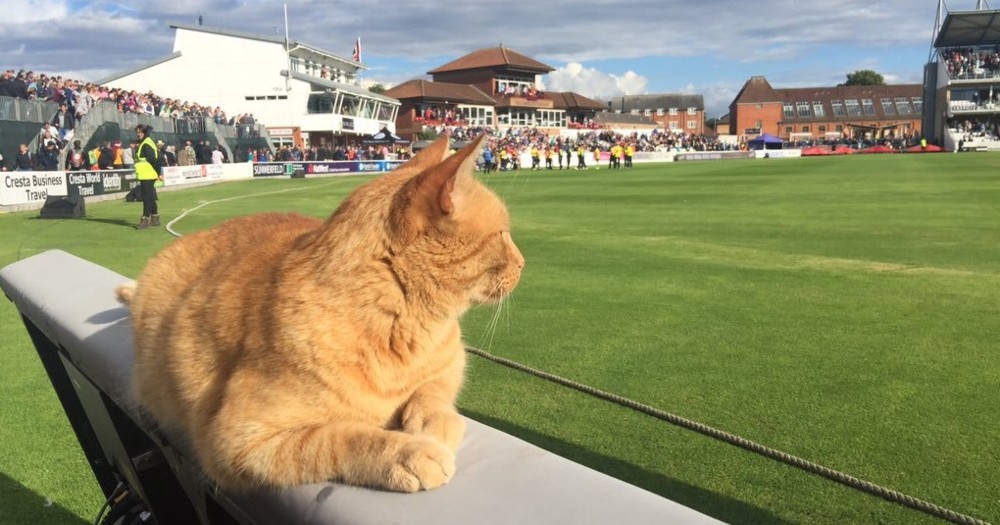 I found that photo here. But that's from the Somerset County Cricket Club website, and they can't mention their own cricket ground without vomit-inducingly attaching the name of their tedious sponsors to it, so no quotes from there, thank you.
Let's switch to the Indian Express. Seemingly bored with wash-outs and mismatches, they try to spice up their World Cup coverage by adding Brian to their reportage:
While the match between New Zealand and Afghanistan saw the cricket fans getting to see Brian, the resident feline of the Somerset Cricket Ground, Taunton, for the first time in this year's World Cup, cricket fans had to wait for some time to see the famous cat during the Australia-Pakistan match.

The whiskers, who has been given membership of the club, and also has a twitter handle, was seen walking on the advertising boards in the New Zealand-Afghanistan match and fans were seen cheering for the cat. The feline, who was first spotted at the stadium in 2013, was named after Brian Lee, one of the club's employees who was on leave at that time and the club officials named the cat Brian on him having a same hairstyle like his human namesake. Brian the cat also spent some time watching Pakistan practice during one of their practice sessions on Tuesday. The cat has currently 1,737 followers on twitter. …
I lurk on Twitter, but count me out. Brian is not what you'd be following. It's just some person. Brian himself is oblivious. He probably doesn't even know that humans call him Brian, and he frequents the Taunton cricket ground for some feline reason like liking the smell of its grass. Also, cats quite like humans, provided they don't make too many sudden movements or too much noise. So a cricket crowd would be just the thing. But Brian does not care whether Somerset win or lose. Or England, for that matter. Such things ought not to have to be explained.
On the other hand, during the BBC coverage of the England-SL game today, it was pointed out that this Cricket World Cup has at least spared the world the horror of Mascots, like the ghastly made-up creatures which afflicted the Olympic Games in 2012.
It didn't work. I'm still in a bad mood about England losing today. When this World Cup was starting out, all the talk was of four teams automatically getting to the semis: England, Australia, New Zealand, India. That could still be what happens, but England have now lost to two of the Other Six, Pakistan and now Sri Lanka, and have yet to play any of the other Top Four. Are England now better than them? Doesn't look that way.