I am writing this at 5am, and will shortly be going back to bed. That's another Getting Old (see the "Categories" below) thing. I now typically have to get up in the middle of the night, to piss and to cool down, bladder and temperature control being two things that have cumulatively deserted me, as I have Got Older.
Also, as with most of this week's evenings, I have something I must go out and do this evening. That always puts the kibosh (spelling?) on the day. There's something about having Absolutely Nothing To Do For the whole day, until I next go to bed for real (i.e., at this particular time) in the very small hours of Saturday morning, that enables me to really get stuck into something, like a piece of serious writing (this not being that) or even merely thinking seriously about something, that I really like. Contrariwise, the knowledge that if I do get really stuck into something now, it might go on and on into the evening, at which point I would then have to cut it short, and go off to do something else, makes me fear getting stuck in in the first place. Even though I have many hours before I have to go off to do that other thing.
Factor in the something-here-every-day rule, and I think you can see how I need to get blogging out of the way as soon as possible. Blogging, of even the most trivial sort (this being that) is something that you can't guarantee to finish at any particular hour. It takes as long as it takes. What if I find I want to stick up a photo? And what if that photo leads to other photos? What if I want to link back to an earlier posting, from the old blog, which I haven't yet shovelled across to here? What if Surrey suddenly start doing really well at cricket, and demand my attention, in among me trying to contrive this blog posting? There's so much to get complicated, and to gobble up all that now seemingly endless time.
Here is a photo that I want to stick up here, now, of the early morning light coming in through the scaffolding and the gauze outside the window of my living room: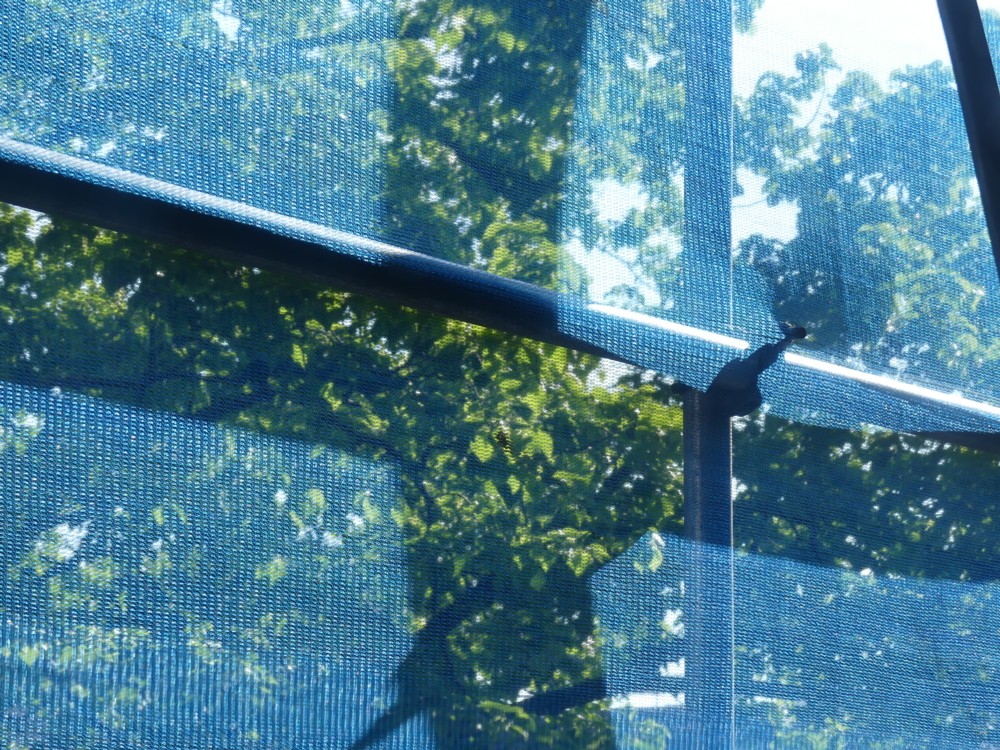 That wasn't actually photoed just now. It was photoed at this time in the morning, earlier this week. The time of day is the point, not the date of the day. The photo is all about how you can see through gauze if the gauze itself is not lit up, but not so much if it is.
Here is another early morning gauze photo, also one I photoed earlier: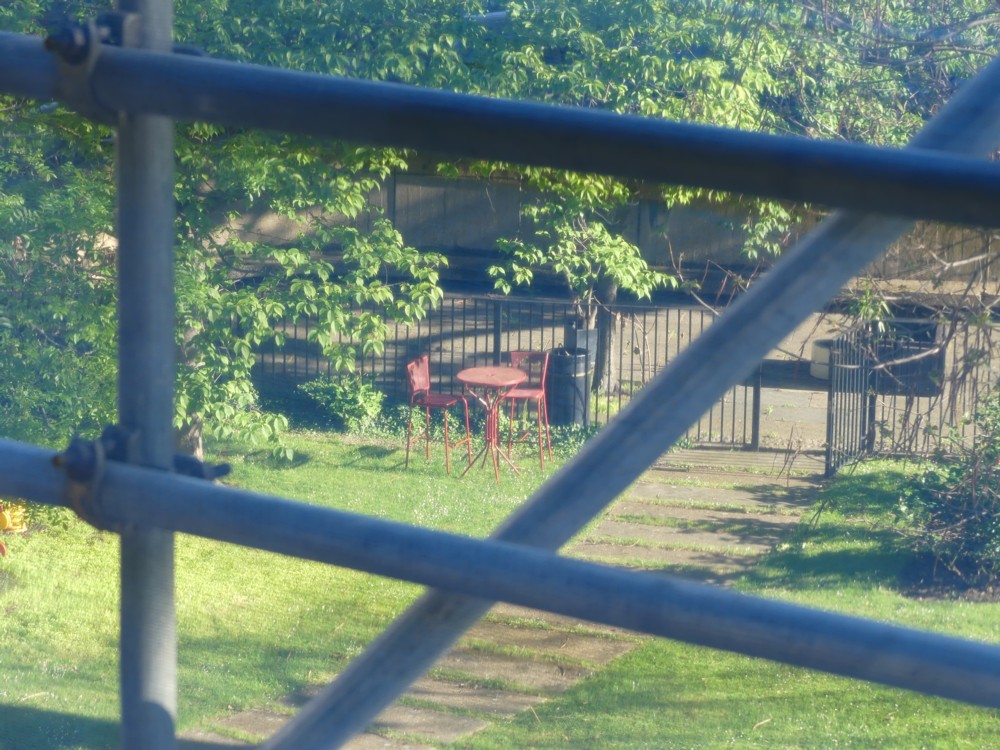 The point of that photo being that despite the gauziness of the gauze, if you can persuade your camera to focus on the far distance, through the gauze, it's like the gauze isn't there. The gauze might as well be a perfectly cleaned lens of filter, for all the interruption it imposes. It changes the nature of the incoming light, but not the clarity of the photo. If anything, by reducing the mere quantity of light, it clarifies the picture, just like a regular filter. That red clutch of a table and chairs can be entirely seen, with no gauze in the picture at all, just less light and therefore, probably, less glare all over the place. But the gauze is there. Just not having any effect on what my camera seems to see. How about that?
Here is a photo of the gauze, similar to the first photo above. But this is not about the contrast between the lit gauze and the unlit gauze, merely about how very gauzy the gauze is: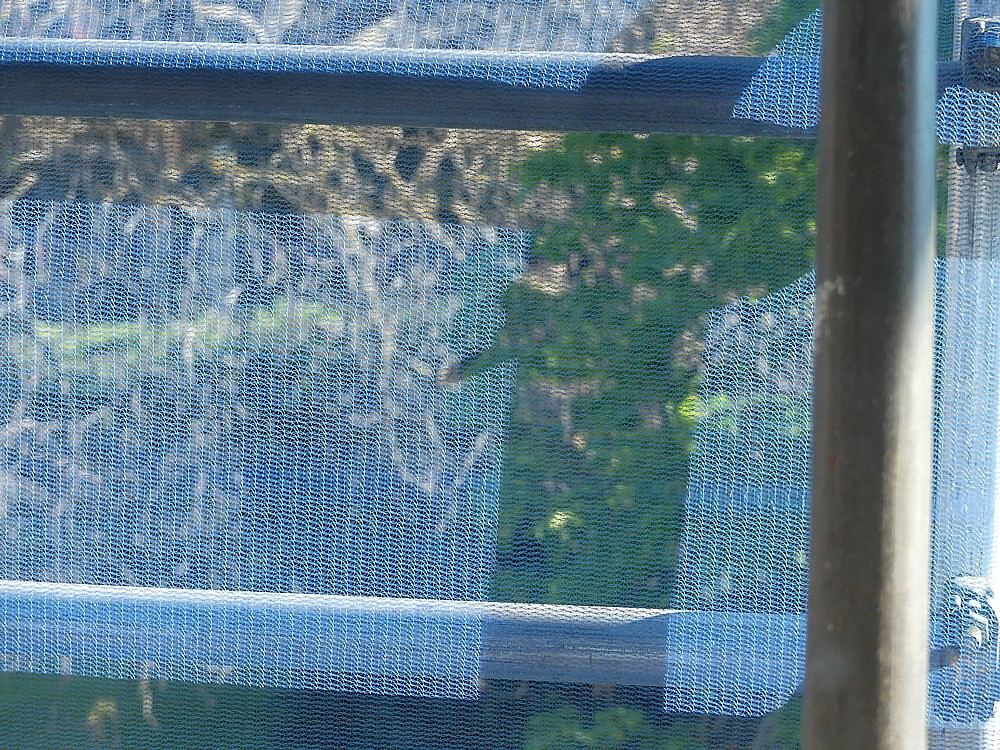 Enough. (Although actually, let me add, I (LATER:) made the first version of the above gauziness even gauzier by "sharpening" it, in my photoshop-clone. Much better. (Much gauzier.))
But now, I have to photo-process the above photos, just to get them the right size, and then load them up into the blog. This all takes time. I also need to give the above a read-through and correct, which also all takes time. By the time this trivial blog posting is done, over an hour (a phrase which had to be changed from "the best part of an hour") will have elapsed. Had I been doing all this in the knowledge that in two hours, say, I'd have had to stop and go out, it would have been very stressful. I might have had to stop before completion and just hope that that the bits of this blog posting were pickable-uppable later. As it is, all I did was delay some resumed sleep, let my feet get a bit colder than is convenient, and my bed get a bit colder than will enable my feet to warm up again, all of which is easily corrected with a hot water bottle. No problem.
Really. Enough.
I have now freed up the entire day, for important but non-urgent stuff. Bliss. Come to think of it, I have other important and urgent stuff to deal with. Now much easier to fit in. Bliss of a different kind. (ENOUGH.)