Patrick Crozier and I have just fixed our next podcast, which we will record early next week. Read about and listen to earlier ones here, and in due course this next one will go there too. And for this next one, we will talk about … Brexit. I knew you'd be excited.
Many claim that they are bored by Brexit, and maybe many are. Although I suspect some are really just pissed off with not getting exactly what they want. (And who is getting exactly what they want?) Either that, or actually only bored with other people's opinions, but not with their own. Me, I find the whole process rather fascinating, now that I have got over having been so wrong about it. I thought that Brexit would lose the Referendum, but it won. And I thought that once it had won, it would happen without too much fuss, because the Conservative Party leavers would mostly bow to the inevitable. As of now, that hasn't happened, and doesn't look like it will happen any time soon.
Brexit is a subject that Patrick has strong opinions about, which is good because although this will not stop me interrupting (I'm afraid I always interrupt), it may at least mean that some of the times when I do interrupt, he'll interrupt back and shut me up until he's finished the point he was making before I interrupted.
Here is a Brexit photo I recently photoed, of a bus driving around and around Parliament Square, saying Believe in Britain and LEAVE MEANS LEAVE, but with nobody in the bus apart from the driver: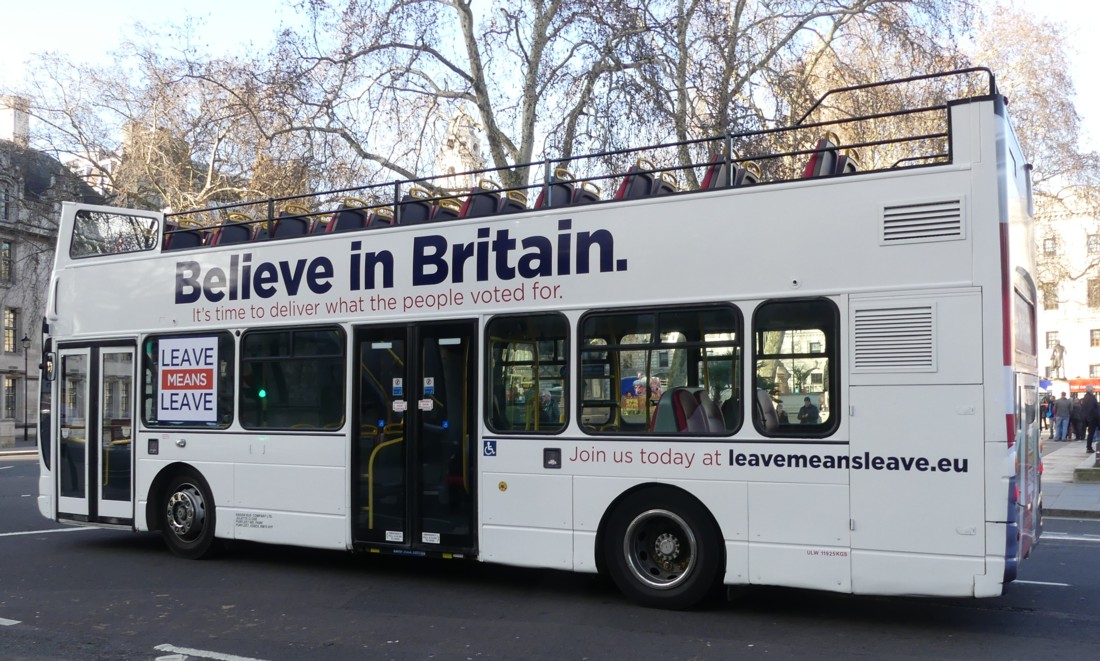 They all left, I guess.