Being logical about it, there are five Six Nations weekends each year, during which each of the Six Nations plays all the other Five Nations, and there are forty seven Six Nationsless weekends. But Six Nationalists like me know which weekends I am talking about. I'm talking about the one between week 2 and week 3 and the one between week 3 and week 4. The Six Nations is happening. But, it's not. The Six Nations is under way. But it's stuck. I have just endured the first of these two weird ordeals.
But in between these two black holes of non-Six Nationsness, the key game of this year's entire Six Nations, Wales v England will be happening, in Cardiff. Both England and Wales have won their first two games, and only they can each still win a Grand Slam. England, with their three South Sea Island hulks playing, have been unbeatable, so far. And they have many times started out unbeatably against Wales. But then the Welsh play catch-up rugby, which is a game that they, unlike any other Six Nation these days, can actually play, and they often then win, despite England's scrum being on top for the whole game. So I am taking nothing for granted. Especially when you consider that England will have only one Vunipola playing, the other one having hurt himself against France, as earlier noted here. But England will have a Tuilagi playing, in addition to the surviving Vunipola, so I just about fancy them to win.
Meanwhile, how did I survive the recently concluded weekend? Well, there were two good cricket matches to be following. There was an amazing test match between South Africa and Sri Lanka, which SL won by one wicket, following an unbeaten last wicket stand of 78, and what was clearly a wonderful 153 not out by their wicketkeeper Kusal Perera.
Here's a picture of Perera celebrating that amazing win: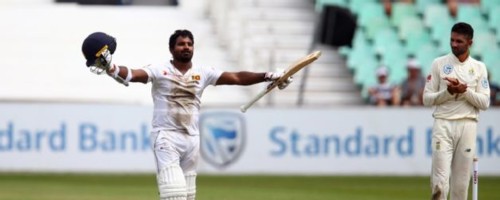 But, note those empty seats. I wonder how many people actually paid to be present at this game. Rather few, if that's anything to go by. People are now saying, as they have been for many years, that Test Cricket is dying. But it keeps being interesting, in a way that the other crickets now played can't ever really match, any more than a number one pop song can quite match a Bruckner Symphony. That's if you like Bruckner symphonies.
The other good cricket game was one of those other crickets games, the final (finally) of the Big Bash League, contested between the Melbourne Poisonous Spiders and the Melbourne Big Hairy Bastards. Or some such belligerently metaphorical contestants. It was definitely Melbourne v Melbourne. Melbourne won, but not before Melbourne had looked certain to win but then suddenly collapsed, allowing Melbourne to snatch the trophy.
The two semi-finals having happened on Thursday and Friday mornings, I was up promptly on Sunday morning to follow this game. But it happened in the Australian afternoon instead of in the evening, and it was all done when I clicked in. Oh well. It was fun to read about.