Not really, I don't suppose. But that's how it looks.
I can't recall how I came across this amazing bridge, but I think it was my Twitter feed. My first reaction was that this was some very high class Photoshopping. But no. Here's a report from July of this year.
This Thing is for real. It is in Vietnam: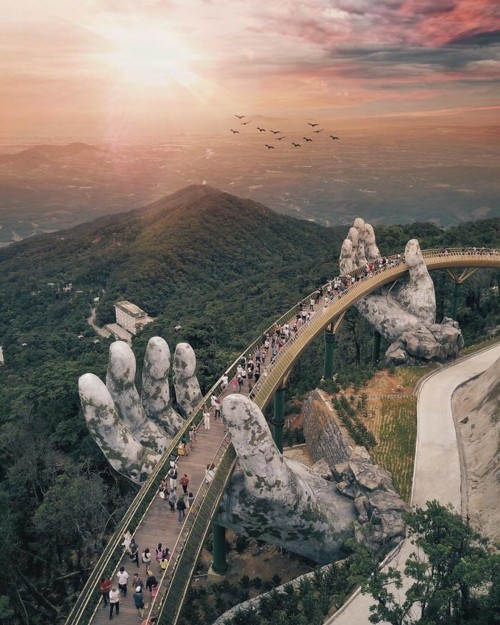 I found that photo here.
Given that the flood of big and impressive new bridges now seems to have receded (and given that big "new" bridges are now starting to collapse), the emphasis has switched to small and impressive new bridges. Of which this one is by far the most impressive, in my opinion.
These giant hands are going to trigger a flood of similarly inventive small bridges, with sculptors and engineers collaborating to outdo each other. Not all will be beautiful, but all will very recognisable and distinctive, which is the next best thing, I think.
People love bridges. It's not just me. Look at all the people on that bridge.
Does the bridge have a giant figure beside it, who is holding the bridge, or are there just hands? If not, maybe that will happen soon. A statue holding a bridge. Why not?
How about London getting the man who did these sculptures (LINK TO THE OLD BLOG) to design a London footbridge, somewhere, in which two more such guys are holding it up? Or four? Or six? I'll leave that to him and his engineer. But, London, do this.
All over the world, now, people – people like me – are seeing the bridge in the photo above, and are saying: Why can't we have something like that?
And others are saying: Oh no, how ghastly. But to hell with them. Put the first such bridge in your area somewhere really ugly, where there's nothing to spoil. That should silence the grumblers.