The high point, literally, of the expedition that GodDaughter2 and I made to Kew Gardens back in August was our exploration of the Great Pagoda.
From the top of the Great Pagoda, you can see the Big Things of Central London. But what the Great Pagoda itself looks like is also worth examining.
Here is an early view we had of it: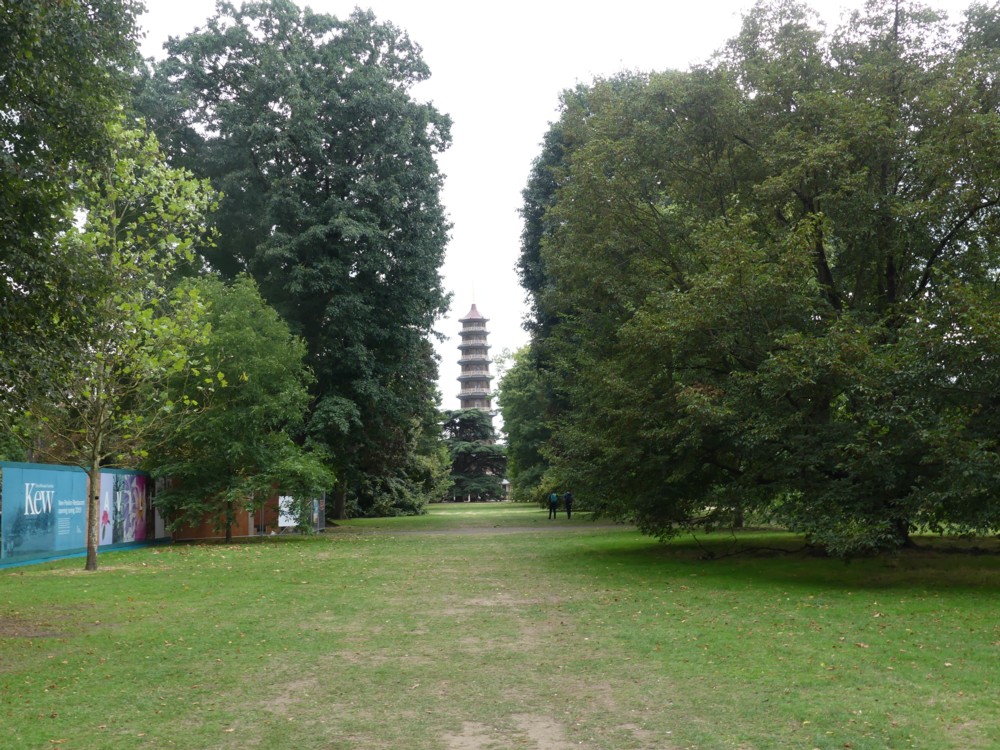 And here is how it looked when we got closer: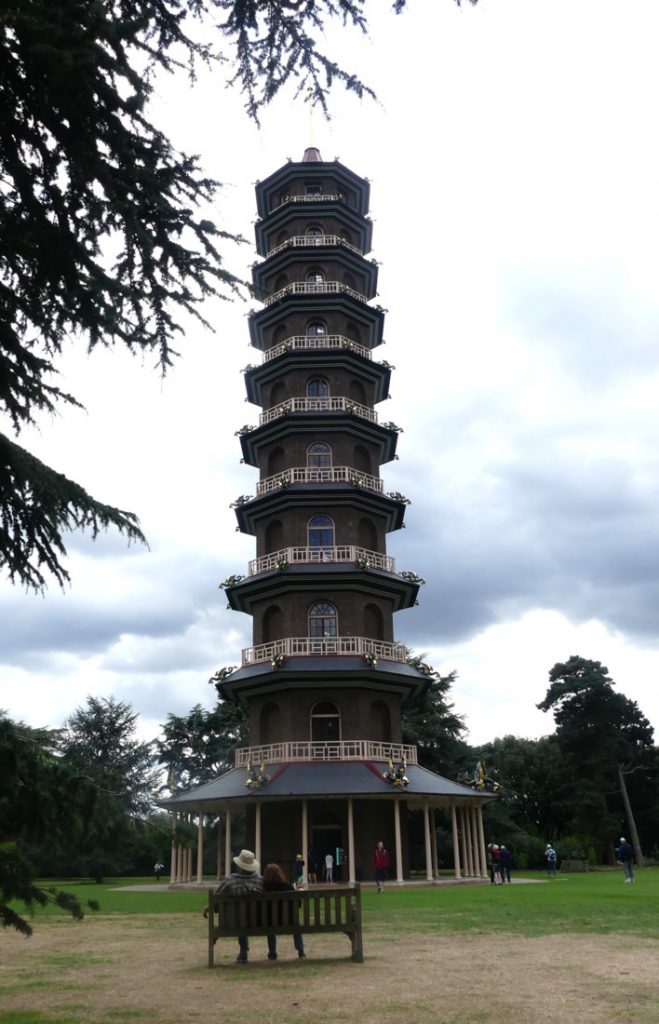 The Daily Mail describes the Great Pagoda as Britain's First Skyscraper.
Now look how it looked when we got closer still: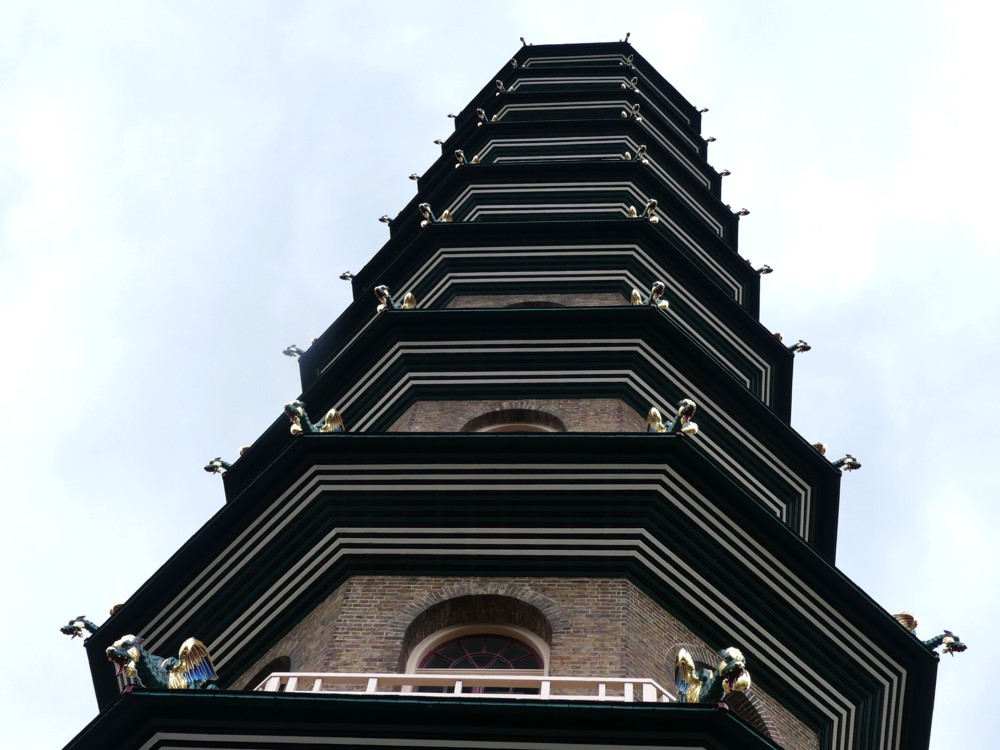 So, what are those sticky-outy things on the corners of each sticky-outy roof?
That's right, dragons. And we're not talking merely inflated dragons. These are solid looking and scary. You couldn't kill these dragons with a mere pin prick, and you wouldn't dare to try.
Most of the Great Pagoda dragons look like this:
We discovered when we got there that the recent restoration of this Great Pagoda had, only a few weeks before our visit, been completed. We got very lucky with that.
Read more about these dragons, and about the Pagoda that they now guard, in this Guardian report.
This Great Pagoda, London's very first Big Thing, was built by Sir William Chambers in 1762. The dragons were a feature of the original Pagoda, but in 1784 they were removed. Being made of wood, and following a burst of wet weather, they had started to rot.
Wikipedia says that Kew Gardens was adopted as a national botanical garden in 1840. Would that be when the Pagoda was opened to the general public? Whenever exactly that was, Kew Gardens and the Great Pagoda have been what we now call visitor attractions for quite a while now.
During World War 2, the Great Pagoda was used to test bombs. You can still see one of the holes they made in all the floors, to allow the bombs to fall. Keeping that for everyone to see now is a nice touch, I think.
Kew Gardens contains lots of greenery, and green stuff on sticks. What do they call those things? Trees. Kew Gardens has lots and lots of trees, of many different brands.
So, on the left here, the hole in the floor. On the right there, the seat made from many trees:
And in the middle, the seat, seen through the hole.
But back to those dragons. The old rotting dragons have now been almost entirely replaced by 3D printed dragons, which look solid but which are actually far lighter than the old-time originals.
On the lowest roof, right near the ground, there was a different sort of dragon, which looked like this:
I wonder what the story was of that one, for there did indeed seem to be only one such blue dragon. Had the original plan been to make all the dragons like that one? But did its structural weakness cause them to abandon that plan, and go with the other darker green dragon with its scary red tongue, and with its rather more solid wings? Don't know, but whatever the story is, the winning dragon design is pretty good also.
Everything about how the Great Pagoda looks, inside as well as its exterior, says: class. This is a visitor attraction that I warmly recommend. There is no lift, not originally of course, and not now, but the steps, although quite numerous, are at a comfortably mild angle – rather than, say, like the ones in the Monument. Even better, each flight of steps you go up causes you to reach another actual floor, of the sort you can stand on, with windows looking outwards. So, oldies like me can go up two floors, say, and then have a comfortable breather, without blocking anyone else on the stairs. If we are on the right floor, we can even use that multi-treed seat (see above).
The weather on the day that GD2 and I visited Kew Gardens was not perfect. The dragons look rather dark and menacing in my photos. But that look works, I think. And as days out go, this day out was pretty much perfect.