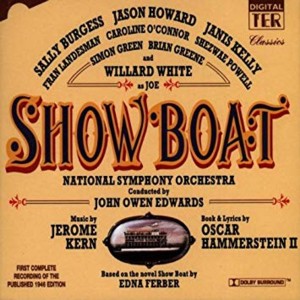 Recently I bought a CD set of Showboat, and yesterday I listened to it. Showboat is not really my kind of thing. When it comes to singing, I tend to prefer either Schubert or the Rolling Stones. I bought this Showboat to learn more about a lady called Janis Kelly. As you can see to the right there, she is one of the star singers in this recording.
Janis Kelly is something of a legend in the classical singing world. She is a fine singer in operas and music dramas of all kinds, and she sang the part of "Magnolia" in this performance of Showboat. She is also a much admired singing teacher, of the sort that singers she has taught spend the rest of their careers boasting that they were taught by, in their CVs and programme notes. And, Janis Kelly just happens to be GodDaughter2's singing teacher at the Royal College of Music. (GD2's graduation recital being further evidence, to my ears, and eyes, of Ms. Kelly's teaching prowess.)
Janis Kelly sounded great on this recording, but what surprised me was how much I enjoyed the recording as a whole. I am used to hearing shows like Showboat performed in a style that is aimed at audiences who basically prefer pop music to classical or orchestral music, and which typically uses pop brashness and pop exuberance to cover for the small number of musicians being deployed. This version of Showboat, however, was "orchestrated", by Robert Russell Bennett. The sleeve notes claim that this orchestration is based on the "original 1946 score", and (I'm guessing) might well be closer to what its composer, Jerome Kern, would have wanted than was any performance that Kern himself ever heard. This is a performance which makes clear the direct line from opera to operetta, to the music of Kern. Under the baton of John Owen Edwards, the orchestra makes a far lovelier sound than the din I was expecting.
Mercifully, what has not been opera-ed, so to speak, is the singing style. Where an operatically-inclined manner is appropriate, that is what happens, as when Janis Kelly sings, for example. But when it comes to a character like Ellie, sung by Caroline O'Connor, we get the full Broadway closely-microphoned belting style, a style that someone like Franz Lehar, or for that matter Franz Schubert, could never have imagined.
Further proof of the excellence of the singing in this performance is that, in the best Broadway style, and even when the singing is rather operatic, you can hear every word they sing. Had this show been sung in the full-on operatic style throughout, to emphasise that this is directly descended from Verdi and Wagner and Puccini, that would never have happened. (I'm still grumbling to myself about a performance of Madam Butterfly at the English National Opera (where everything is sung in English), where most of the solo singers might as well have been singing in Japanese for all the sense I could make of what they were singing.)
My feeling about opera is that I tend not to like how it is sung (too wobbly and verbally incomprehensible (see above)), but I love the sound that it makes, in between the singing. When it comes to singing, I tend to prefer the Abba style to the noise made by the average opera singer. (Above average opera singers are a different matter entirely. (Today I listened to Act 1 of this, also on CD, and it sounded stupendous.)) But as for what accompanies that singing, give me the sound of an opera orchestra every time, over the brash, jazz-band-based instrumental belting, banging and twanging that you mostly get when listening to "music theatre", provided only that the music is the kind that works orchestrally, which in Showboat it is.
This Showboat, then, is for me the ideal compromise, between Broadway and the opera house, being the best of both and the worst of neither. Not bad for a fiver, which is all Amazon charged me for it.