So I went looking for interesting new bridges, as I do from time to time, but found nothing interesting that I didn't know about. Like I say, the bridge news these days is when they collapse.
So I gave up on bridges, and instead thought about doing a posting about the Brunel Museum, which I visited on Saturday. There is, of course, a website. But there is also a Wikipedia entry. And look what I found there. That's right, it's the Royal Albert Bridge, Saltash, made smaller and sittable upon, with a train: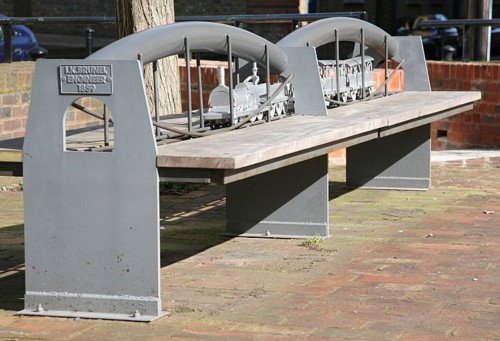 I'm pretty sure that, while waiting to be told about the nearby Brunel tunnel under the Thames (set in motion by Brunel's dad Marc), I and my two pals were sitting sipping our drinks within a few feet of this bridge-bench. But it was dark, and I only found out about it just now.
Here are two things I did see:
On the left, a bust of Marc Brunel, in the little museum. On the right, a photo of son Isambard Kingdom Brunel, the famous photo with the huge chains behind him, projected onto the extremely grubby and deranged wall of the place where we listened to a lecture about the tunnel. The guy is saying: "Well, you just can't get the walls these days."
No, he wasn't. He was saying something I didn't catch because I wasn't concentrating hard enough to make it out. That being because the acoustics of this strange vertical cylinder in the ground were about as reverberationally bad as acoustics are able to be, and I could only make out about one in three of the words spoken by the guy, despite him being an actor who enunciated very clearly, and despite him standing about four yards from where we were sitting.
But despite all of the above, it was a fun evening. Basically (a) because of the company, and (b) because now, when people ask me if I know anything about the Brunel Museum in Bermondsey, I can now say: Yes. I've been there. And because I had fun photoing.