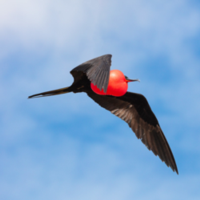 This is the exactly kind of thing I joined Twitter to be informed of. Pinker, it seems, is a Real Photographer, or at least Real enough for me not to know the difference. I'm sure that The World has known about Pinker's photoing for as long as he has been doing it, but The World did not include me, until a few days ago.
Also rather Real Photographer is that if you left-click on any of the photos here, you get a little dark rectangle with little blue writing in it saying this:
These photos are copyrighted by their respective owners. All rights reserved. Unauthorized use prohibited.
So I hope that the small and cropped repro that I have included here, of one of the more eye-catching of these photos, of something called a frigatebird, will not incur the ire of Pinker Inc., or whatever it is that might be irate. If Pinker Inc. does demand the removal of even this little photo, that will happen straight away.
But if it does, no matter. Follow the above links and feast your eyes and your mind on the weird and wonderful creatures of the Galapagos Islands.