I like this, in an I wouldn't actually want one sort of a way::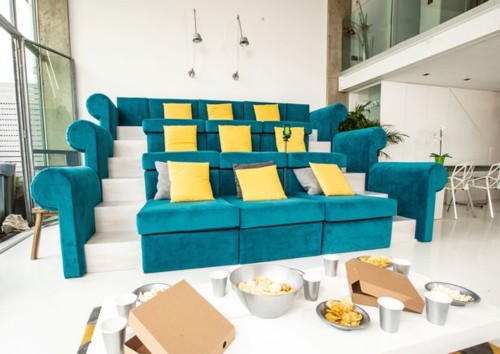 But it isn't a serious piece of furniture. Nobody is actually going to buy one of these edifices. If that's wrong, I look forward to learning about it and telling you about it, with more photos, of this 3 decker sofa in an actual home type home, instead of in something that looks like a city office.
The idea is, I assume, to flood the internet with the set of pictures of which the above is but one, of this cross between a sofa and a sports stadium, and thereby get people to link to stories like this one, which are about some kind of joint venture between BT (which stands for British Telecom) and EE (which stands for Esomething Esomething), involving being able to shove whatever television stuff you are receiving on your mobile phone onto your television. At no extra charge, blah blah, which always actually means at a definite extra charge. (EE probably began life meaning Extremely Expensive. Something to do with mobile internet connections, I think.)
For me, what this sofa-sports-stand is about is the fact that domestic television is getting steadily bigger and better, and cinemas and pubs are get steadily less attractive as places to watch … video. This is the trend that EE/BT are tuning into, to sell whatever it is they're selling.
The key moment in this process was when big TVs started getting cheap.