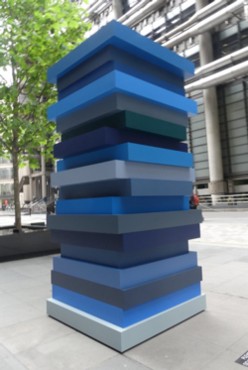 On the day that England ruthlessly crushed Tunisia at football, with a very late goal, I was checking out the most recent Big Things of the City of London. But there are other things in the City of London besides Big Things, and this is, you sense, deliberate. They're trying to make the City more than a place of work which becomes deserted when everyone buggers off to the suburbs early on Friday evening. They're trying to make it stay alive at evenings and weekends. They're trying to make it the sort of place that people might like to visit, as opposed merely to a place that lots of people find it profitable to work in.
One of the things that signals this effort is sculpture.
On the right is a photo I took of the first sculpture I encountered during my walkabout. Frankly, I wasn't impressed. The colours are quite nice, but the sculpture itself is too much like a miniature and pretend Big Thing. And why would you want that when you have real Big Things all around you? Standing as it does next to the Lloyds Building, this pile of coloured rectangles just looked feeble and sad.
I much preferred this carthorse:
And this goat:
Here is a link to information about the goat.
Strangely, I could find absolutely nothing on the www about the carthorse. This may be because, rather than being Art, it is merely a 3D advert for alcohol. Those big giant courgettes it is dragging along in its cart are for making booze of some sort, or such is my guess. Or, the silence of the internet may be because this carthorse has only very recently arrived at the spot where I encountered it. Or, the internet is full of stuff about this carthorse and I merely failed to find it, which is the most likely explanation for this not-link.
Whatever. The thing I liked about both the horse and the goat is that they are simulated biological entities, rather than man-made structures like that pile of coloured rectangles. They do not compete with the Big Things, because they are different from them. Instead, they make a welcome contrast to the Big Things.
Big Things on their own are very dull, I think, and little Big Things don't change that. Sculpted creatures do change this, I also think.