Next Friday, my good friend Adriana Lukas will be giving a talk at my home entitled Personal Recollections of Life Under Communism. While concocting some biographical information for my email list members, I took a closer look than I have before at her Twitter feed.
Way back in 2015, Adriana retweeted this remarkable image: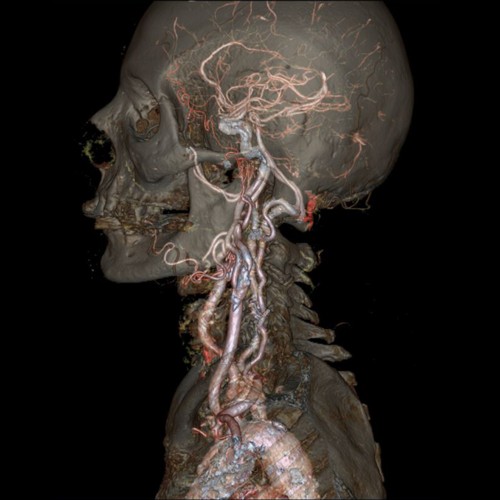 It looks like some ancient oil painting, rather than the latest-thing highest-of-high-tech imagery, which of course is what it is.
GE Healthcare's 3D-printing software works seamlessly with GE Advantage Workstation systems already working inside hospitals around the world. After a scan, the anatomy is rendered as a 3D image using GE's Volume Viewer software, a 3D-imaging platform that combines data from sources like CT but also MRI and X-ray. The software then converts the image file generated by the Volume Viewer and within seconds translates it into a file format that can be interpreted by a 3D printer.

"In the past, it would take several days to get the images back" from an outside 3D software processor, Cury says. "The advantage of the new software is it's in the same workstation where the technologists already do work on 3D images. The steps are a lot quicker and easier."

More than 100 hospitals around the world have already ordered GE's 3D organ printing software, which can be used for any type of organ as well as models of bones and muscles. GE says that as more hospitals use the software, it will be easier and quicker for doctors like Cury to share files with each other and have 3D models to use for planning and education prior to procedures.
The most impressive 3D printing stories often feature hopelessly old-school businesses, like GE. This is because 3D printing is the ultimate non-disruptive technology. It attaches itself to existing businesses and makes them better. If you know only about 3D printing, and are not willing to cooperate with a regular business, forget about it.
All those stupid 3D printers that they tried to sell in Currys PC World a few years back were just ridiculous junk for making further even more ridiculous junk.