I remember when the internet was nice. My part of it, the blogosphere, was nice, anyway. Every blogger, no matter what he thought about things, was a comrade. Every commenter, ditto. In those magic few years from about 2001 until about 2008 at the latest, when a whole generation of people the world over found themselves short of cash, the internet was a nicer, more trusting place than it is now. Since then, less and less. Now, the internet is not to be trusted further than it can be spat, and it can't be spat at all, can it?
Which is why, when I go on holiday and leave my flat unattended, I tend not to broadcast the fact on this blog, by posting postings which are clearly from this or that holiday location.
Now, I know what you're thinking: broadcast? This blog, a broadcast? Well, no, not to regular humans. But to all those cash-strapped desperadoes out there, it is a potential opportunity.
I don't know if there are any internet creatures who spend their time working out, from blog postings and social media postings, that this or that person has left his home unattended, and then selling lists of such trusting persons on to people who might be able to do something bad about that, but this is not a chance I now care to take. I prefer only to be telling you about photo-expeditions after I am back home.
Also, as you get older, you get more easily scared. The less you have left to lose, the more you fear losing it. This may not make calculational sense, but does make evolutionary sense. The young need to be willing to take risks, to be willing to bet everything for the sake of their gene pool. The old have less to offer in such dramas. Or something. What do I know? Anyway, whatever the reason, we oldies get more timid as we grow older.
So yes, I was on holiday last week, in Brittany, and then yesterday, on the way home from there, I was in Paris, as I yesterday reported once I had got home.
I took enough photos while in France to last me a month of blogging, and I expect about the next week of postings here to be about nothing else. Here is just one photo from my travels: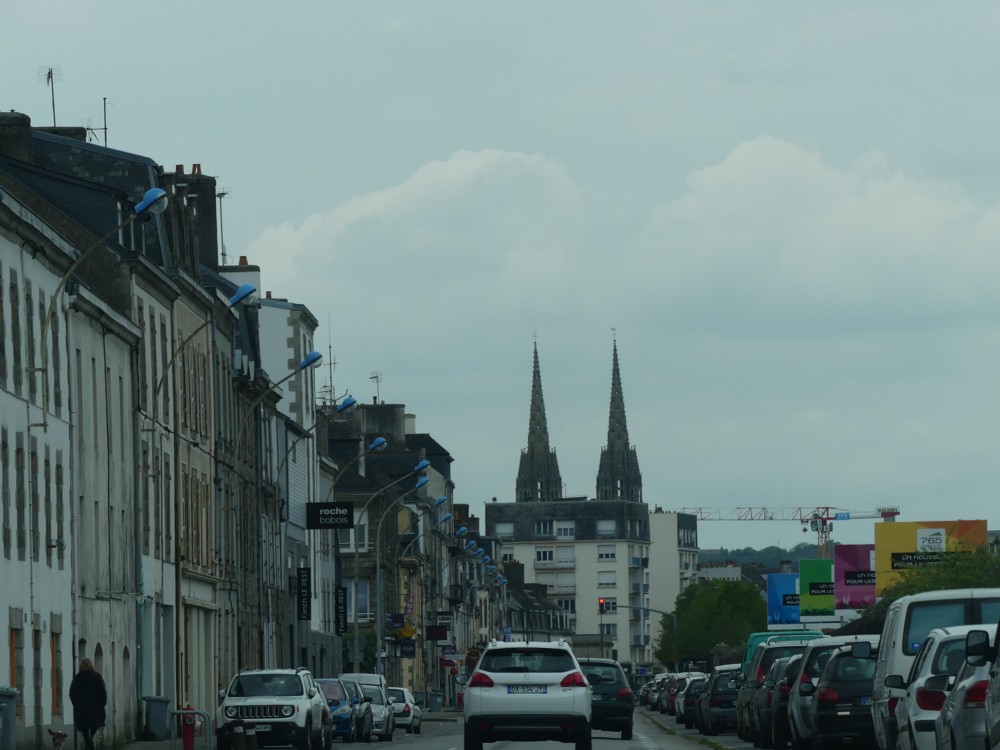 That was my first view, again, this time around, of Quimper Cathedral, seen through the rather sunglassesy front window of my hosts' car, on what was already quite a dreary afternoon, the day after I arrived, Sunday April 29th. Quimper Cathedral – to be more exact, one of its towers – was responsible for the timing of this visit. I'll tell you more about that in a later posting.