After a hard afternoon yesterday, exploring Churchill and his wartime government's subterranean lair, I was, in the evening, in no mood to do much else. But Christian Michel had one of his 6/20 evenings (yes I know, on the 5th (there was a reason but I have forgotten it)), and I forced myself to attend, knowing that I would not regret this. And I didn't.
The highlight of my evening was undoubtedly getting to talk with an artist and art teacher by the name of Elina Cerla. We spoke about how we were both fascinated by the difference between how two eyed people see things, and how one eyed cameras, or camera-like gadgets used by artists, see things. Summary: very differently. Also about how she is more concerned to help people solve the artistic problems they consider important, rather than to shape them all into her preferred sort of artist.
She gave me her card before we went our separate ways, so I'm guessing she will have no problem with me linking you to that website.
You could become one of Elina Cerla's pupils by doing what this says: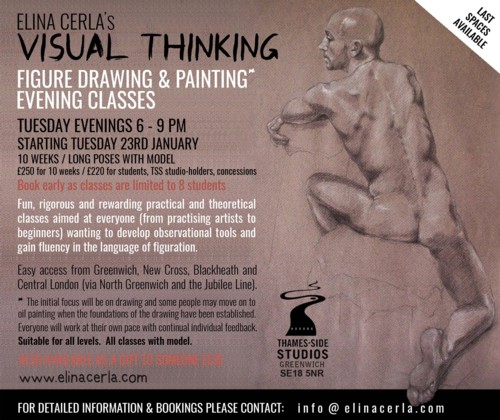 Having already wandered about in the website, I was particularly struck by that naked figure when I came across it elsewhere on the website, so I was intrigued later to find that she chose it to illustrate her teaching advert. I think you will agree that this image inspires confidence that the time of pupils will not be wasted. This is someone with definite skills to impart.
I am presently listening to this YouTube interview. Refreshing absence of art-speak bullshit and political infantilism, of the sort commonly emitted by those who practice (or who are attempting) shock-art.