Indeed: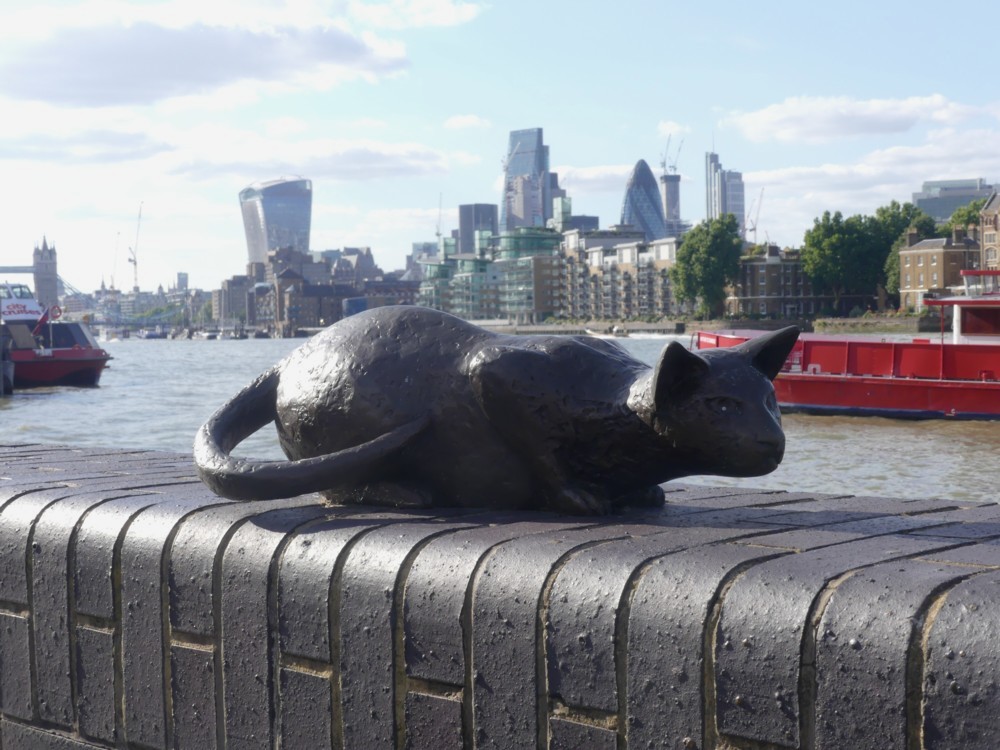 I took all these statue photos yesterday, in a walk with GodDaughter 2 that I have already referred to, which started at the Shard (see below), Tower Bridge, and nearby places, and ended … well, quite a way downstream.
As often happens, my favourite photo of this subject was the first one I took. But I also liked this next one, which neglects what seems to be the usual Big Things of The City background and adds only wall and water: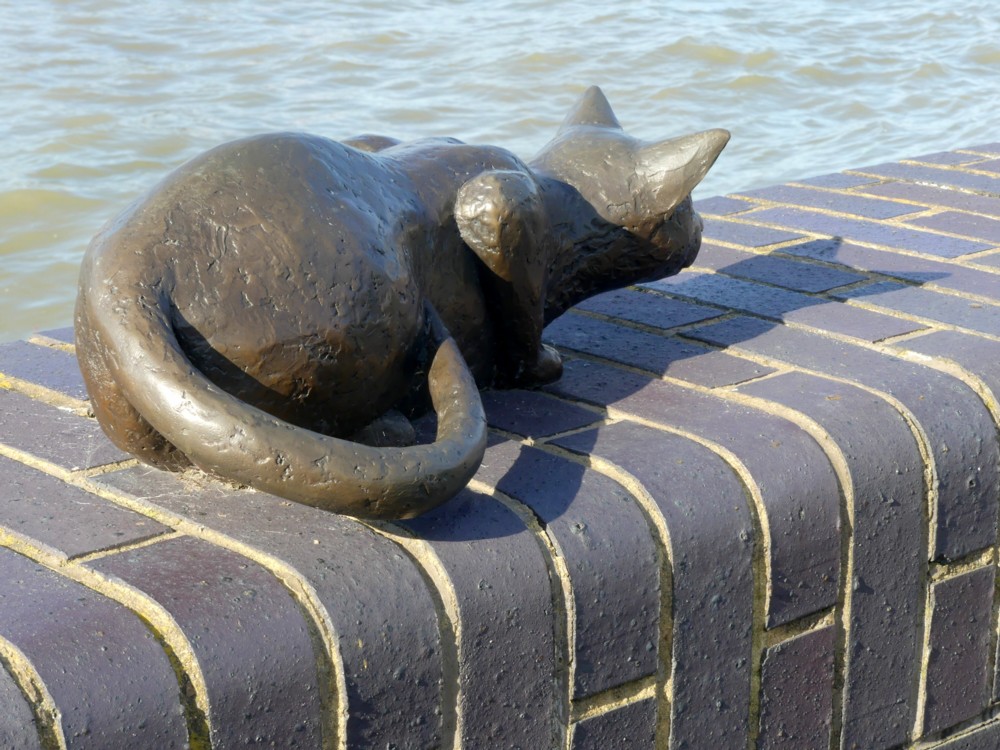 The explanation of the rather odd title of this posting is that what we have here is not so much a group of statues as a drama acted out by a group of statues. Dr Salter (see below) is looking on at his small daughter, and at her cat. But it is all taking place in his imagination, because the small daughter died tragically young. It is all very well explained, with more pictures, here. Follow that link, and you'll even find a map of exactly where this all is.
The drama gets an extra layer of drama, because the original statue of Dr Salter was stolen, for its value as scrap metal. I think I preferred the stolen one, but here is the replacement, with the addition of a young man with tattoos:
The tattoos on the front of that guy were remarkable, and I regret now not asking him to let me photo them. I know, I know, creepy. But if he had said yes, I would have been delighted, and if he had said no that's creepy, I'd have got over it.
Mrs (Ada) Salter also looks on, and these two headshots of her came out quite well too:
While taking these photos, or maybe it was a bit later, I found myself musing aloud to GD2 (with her agreeing) that people seem greatly to prefer statues that are very clearly statues, made out of some sort of monochrome material such as stone or metal, rather than something more realistically coloured, a fact which has, from time to time, puzzled me. Were the latter procedure to be followed, people wouldn't be able to tell the difference between statues and actual people, and this would freak them out.
A "realistic" painting or photo of a person is actually not realistic at all. People are complicated in shape. Paintings and photos are flat. So, if you encounter a photo or a painting of a person, even if it's life size, there is no possibility that you will be duped into introducing yourself to it or asking it for directions. But if you encounter a genuinely realistic 3D statue of a person, only its deeply unnatural stillness would eventually tell you that this is not a real person. And this would be awkward to be dealing with on a regular basis.
A giant statue of someone, realistically coloured, might be okay. After all, miniature statues (go into any toy shop or gift shop to see what I mean) already are okay. Just as with a tiny but realistically coloured person statue, you could tell at once that a giant realistically coloured person statue was only a statue rather than a real person.
A giant cat statue, on the other hand, probably wouldn't be a good idea. People might think: Woooaaarrrrgggghhh!!! A giant cat!!! Get me out of here now!