It's no great surprise that, at the website of the hotel that now calls itself Park Tower Knightsbridge, they are keener to show you pictures of the hotel's interiors and of the views to be seen from the hotel, than they are to show you what the hotel itself looks like to the outside world.
That being this: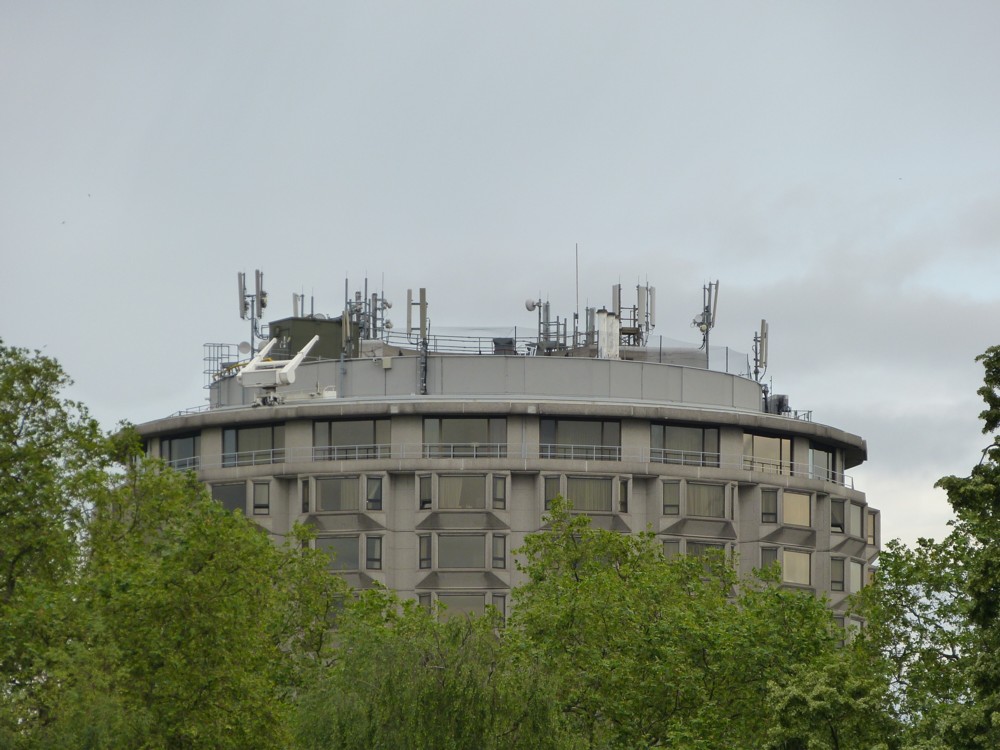 That's a photo of this building that I took five years ago, from Hyde Park, which is not a place I visit very often. Personally, I am rather fond of this building. But I am not the sort of person who would ever stay there. I'm guessing that those who do stay there are not that fond of how it looks from the outside.
Park Tower Knightsbridge was designed by my favourite architect from the Concrete Monstrosity era. Favourite in the sense that when it comes to your typical Concrete Monstrosity architect, I hate almost all of what they did. With Richard Seifert, I just hate some of it, and rather like quite a lot of it.
Especially now that this style is in headlong retreat, and all the arguments about it concern whether this or that relic of the Concrete Monstrosity era should or should not be dismantled. When this style was on the march, smashing everything in its path to rubble, I would gladly have said goodbye to Park Tower Knightsbridge (or whatever it started out being called), if that was what it would have taken to stop the Concrete Monstrosity style in its tracks. But now, I favour the preservation of a decent proportion of London's Concrete Monstrosities. I suspect that they may turn out, in the longer run, like the medieval castles of old (definitely feared and hated when first built), in eventually being regarded as charmingly picturesque.
And, I especially like the Park Tower Knightsbridge, because of its striking concrete window surrounds, and its non-rectangularity. See also No. 1 Croydon, which I think may be my absolute favourite Seifert.
Striking concrete window surrounds and non-rectangularity might also be why I like this next building, One Kemble Street, also designed by Richard Seifert, and already featured here in this posting, which includes a photo of how it looks when viewed from the upstairs bar of the Royal Opera House Covent Garden.
I took these photos, within a few seconds of each other, minutes before taking this rather blurry photo of the ROH.
In addition to being a posting about how I am rather fond of these two Seifert buildings, it is also a rumination upon roof clutter.
Note how both these buildings have an abundance of roof clutter perched on their tops. But note also how that clutter is so arranged as to be largely invisible to anyone standing anywhere at all near to the building.
If you image google either One Kemble Street or Park Tower Knightsbridge, what you mostly get are these close-up views, with all the roof clutter out of sight. It's like those who own these buildings care very much about the impression the buildings give to passers-by, and most especially to those who actually go into the building, but do not care about how the buildings look to the rest of London. They probably figure that nobody really sees these buildings, except from nearby where you can't miss them. But from a distance, and now that the architectural fashion that gave birth to them has been replaced by other fashions, they just, to most eyes, fade into the general background architectural clutter which is London itself. If there is clutter on top of them, well, that's London for you. London, like all big cities these days, abounds in roof clutter.
I don't know. I'm still trying to get my head around these thoughts. Maybe it's just convention. On stage appearances matter, and offstage appearances do not. When it comes to how things look, the side walls of these buildings count. They're on stage. Their roofs do not count. They're off stage.