Usually, I do quota postings in the small hours of the morning. Today, I am doing my quota posting in the big hours of the morning, to get it out of the way before a rather busy day, at the end of which I do not want to be fretting about doing a quota posting. Although, actually, this posting has now turned into something a bit more substantial than that, and I changed the title to something more meaningful. So anyway, yes, cranes: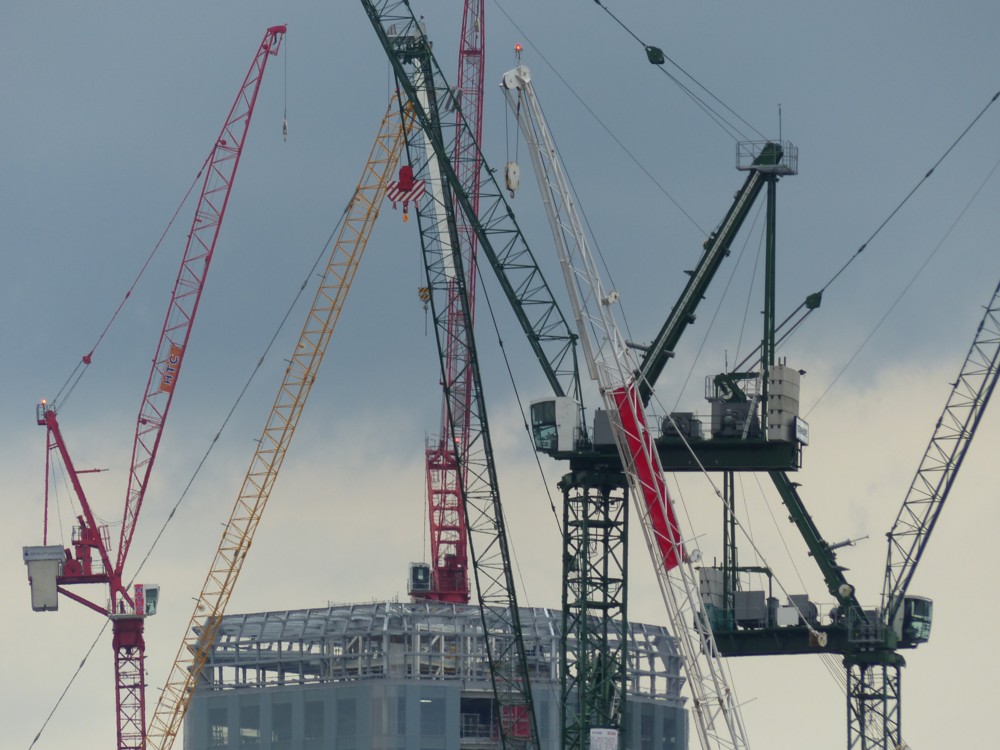 Ah, cranes! Those structurally perfect votes of confidence in the sky. Those cranes were snapped from the south bank of the river, looking across at The City, on the same day earlier this month that I snapped yesterday's quota photo. What that new Moderately Big Thing is, that some of the cranes there are ministering to, I do not know, but I like how it looks, in its incomplete state.
With Brexit, will the cranes vanish for a few years, until London sorts itself out and finds itself some new business to be doing? Crexit? (You can always tell when a word has well and truly caught on, because people immediately start trying to apply the same verbal formula to other things. Brexit, verbally speaking, is the new Watergate. Frexit, Swexit, Thisgate, Thatgate, etc. etc.) I thought that the cranes were going to depart after 2008 and all that, but the money people managed to keep the plates spinning on their sticks, and London's cranes carried on. How will it be this time?
Here is a very pessimistic piece about Britain's prospects, for the immediately foreseeable future. Does this mean that my crane photo-archive will, in hindsight, be the capturing of a moment of the economic history of London that will now pass? If the cranes do go, how will they look when they return? When the new cranes move in, in ten years time or whenever, will cranes like those above look strangely retro, like digital cameras circa 2005?
Or, will the cranes never return, but instead be replaced by magic electric guns which fill the air with muck and sculpt a building out of the muck, 3D printing style, all in the space of an afternoon?