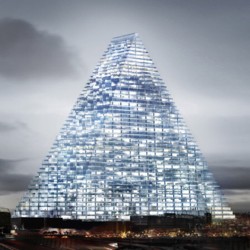 More Dezeen catching up. And this time the news is that Paris is about to get its first truly Grand Chose since the Montparnasse Tower.
Paris is, in certain Parisian minds anyway, suffering from London Big Thing Envy, and they want to change the place.
"The change in regulations is a historic moment," the architects told Dezeen. "Paris is cautiously allowing tall buildings back into the city."
Like Ken Livingstone, who did so much to make London's recent Big Things happen, some of the Parisians angling most powerfully for Grand Choses are socialists.
But Big Things fit right in in London. In London the antiquarian tendency is weak when confronted by the We Want More Office Space tendency. But in Paris, it is the other way around. Paris already has a look that lots of people like, and scattering Grand Choses all over it will radically change that look. London has always grown in big ugly bursts of money-making, which everyone then gets used to and decides they like, so Big Things are just the latest version of a regular London process. Paris was kind of perfect in the late nineteenth century, and since then it has been half city, half museum. It was then neither bombed nor redeveloped by socialist maniacs, as London was. It will be interesting to see if this transformation of Paris can be made to stick or whether it will be stopped in its tracks once again.
The opposition is gathering. This particular Grand Chose has already been dubbed a poor man's Shard, and in truth it really does look like a cross between the Shard and this infamous North Korean structure.
See also this earlier posting about Paris here, here.