Following on from yesterday's ruminations, in among lots of stuff that doesn't fascinate me, including one posting about shit, is a report about Paris' tallest building in over 40 years.
Presumably "Paris" doesn't include La Défense, which is out on the edge of Paris. Those Big Things are very big indeed. What they're talking about here is building Big Things in the centre of Paris.
And the thing is, this Thing not very tall at all: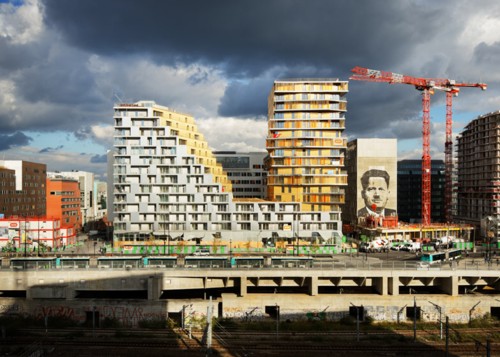 In London, this sort of thing would hardly be noticed.
But the fact that this new Thing is not that big is deliberate.
"This project is not a high-rise, but embodies a shift in attitude, and this gradual increase marks a willingness to reconsider the potential of height and will change the city landscape little by little," said the architects.
They know that if they are to get any new truly Big Things anywhere near the centre of Paris, the first step is to make some things that are not Big, but just a tiny bit bigger. First you get the opposition to concede the principle, with something that doesn't arouse huge opposition. Then you gradually increase the heights, until finally you get your Big Things, and the opposition unites too late. And by then it's too small, because lots of people actually like the new Big Things. This is how politics is done. And this is politics.
The last, and so far only new and truly Big Thing anywhere near the middle of Paris (other than the Eiffel Tower) is the Montparnasse Tower, which was completed in 1973. Compared to almost everything else in central Paris, before or since, the Montparnasse Tower is very tall indeed. It aroused a lot of opposition by embodying such an abrupt, even contemptuous, change of Paris skyscraper policy, and judging by what happened for the next forty years, that opposition was very successful. This time around, those who want Big Parisian Things are going about it more carefully, as the above quote shows.
Speaking of politics, who is that geezer in the picture, in the picture? A politician, I'll bet.