This is one of my favourite Big Thing Alignment shots, to be observed by emerging from Oval tube and walking north east along the A3. Do that, and you soon see Strata in the distance, and directly behind it, the Shard, thus:
These shots are two of many such that I took on June 25th 2012.
On the left: the heart of the matter. On the right: the context. Often, when you have a zoom lens, you show the zoomed shot, and neglect how it actually looked, along with all the other stuff you could see. When I say "you" I of course mean "I".
I worked out that this shot might be there for the taking by looking at the map. Strata is at the Elephant and Castle, which is the big yellow roundabout in the middle of this map: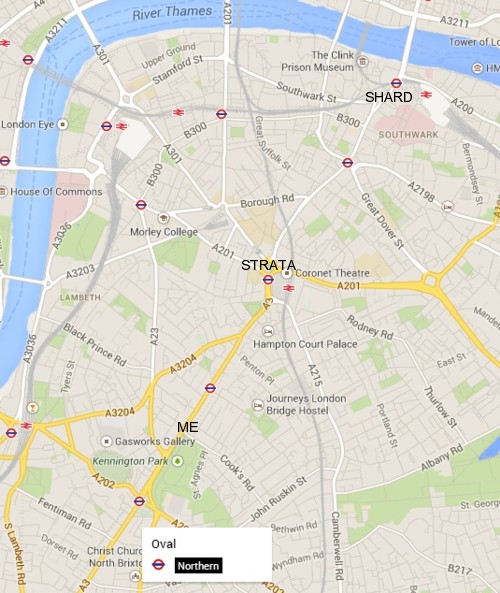 And the Shard is at London Bridge railway station, top right.
What this shows, I think, is another contribution made by technically rather poor photographers like me. We may not take our pictures that well, from the point of view of using the right cameras, lenses, f numbers, and general technical jiggery pokery. But we often take great shots, as in, we often take great shots rather badly. A technically better photographer might see this posting, and say to him or herself: Hey I like that shot. I'm going to go out there and do it again, properly, while crediting the person who first did the shot and thus showed me that the shot was gettable.
(Are Real Photographers reluctant to do this kind of copying-stroke-improving of amateur shots, for intellectual property (and hence money) reasons? Is there a sense in which, photographically speaking, I now "own" this view?)
A similar point could have been made in the course of this posting, which also included a map showing how that shot happened, and where to go to get it. That too was a great shot, done just about well enough to show what a great shot it might have been, but only just.