This is a shot I regularly take, because it never fails to impress me. Here is the version of it that I took yesterday: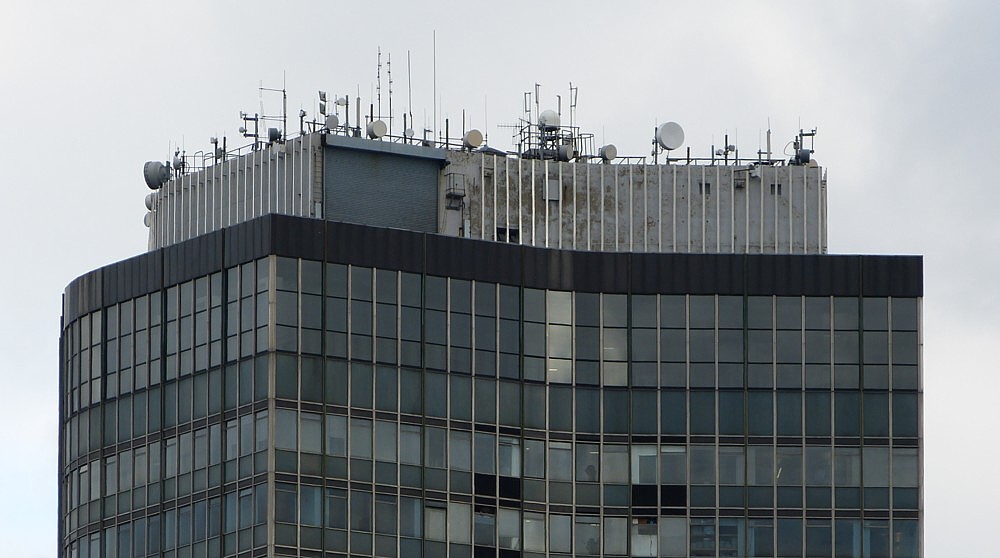 That's the top of Millbank Tower, viewed from the point where Horseferry Road does its sharp right turn towards Victoria Street, or its sharp left turn towards the river, depending on which way you are going. (Me, I tend to go home, straight on along Regency Street.)
I tried cropping this picture even more, so that all there was was roof clutter, but this, I think, somewhat spoiled the effect. What I so much like about the top of Millbank Tower is the contrast between all that intricate techno-anarchy, and the architect-imposed blandness – the faceless face, so to speak – of the main building. Show only the techno-clutter, and you miss that contrast. Show it, and it makes the building look like the architectural equivalent of a blank-faced young man, with a crazy punk hairdo.
There is a similar contrast to be enjoyed in the last of these pictures, again of a big lump with a crazy roof garden of gadgetry. Roof garden is right, because all this stuff combines high-techness with the picturesque appeal of nature.
This is the picture I mean.