I was out and about today, so not much here. But look what I got: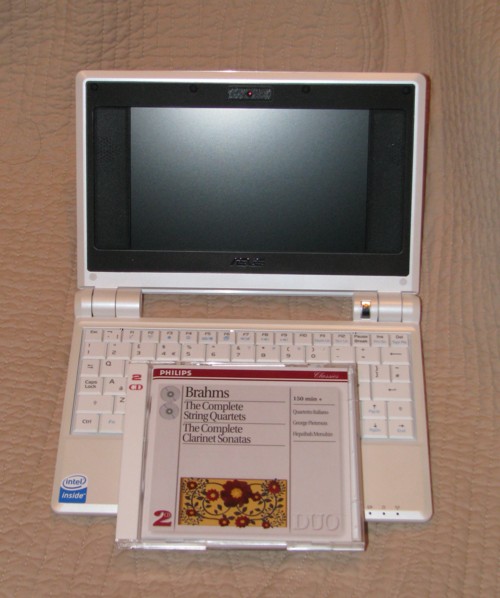 I took one look at the Asus Eee PC, and immediately said yes, I want to buy one. It is small, light, and has a solid feel to it. I haven't switched it on at home yet, but the guy in the shop showed me the screen, and it is way better than I feared. I had thought I might wait until the screen got better, but it's already fine, I think. If this is what Linux can do, then look out Microsoft.
As for the Brahms CDs, these also are wonderful, and not just because they show you how small the Asus is. The first movement of the third of the string quartets, Opus 67, is particularly wonderful. Part of the secret is that the Quartetto Italiano (for it is they), always let the lower parts contribute strongly, and I really like that. But that's not all of it. They play this piece with a uniquely lilting unanimity that I've never heard done better. It's like one actor doing it, rather than four musicians. Amazing. £9 for the double CD, at MDC under the Royal Festival Hall. Strongly recommended. (However, when I played the sample (scroll down a bit at the Amazon page and pick CD1 track 5) of that same movement on my computer with its crappy speakers, it sounded very crappy indeed. At least medium fi really helps with this sort of music.)
I know. You wait months for a Classical Music posting, and then two come along at once.