A few days ago, I was out and about snapping, as is my wont, and I saw something rather unfamiliar in the sky over London, a dirty-looking vapour trail.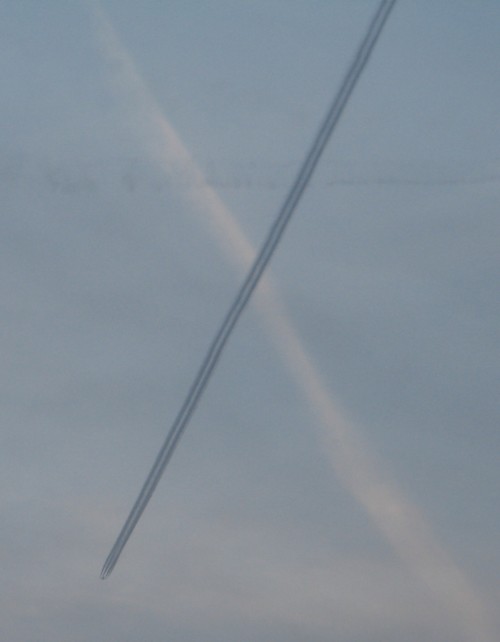 Vapour trails usually look white, as the older vapour trail that makes an X with this new one is. Something about the way vapour trails are usually lit makes them look white, against a blue sky. Mechanical clouds, you might say. And what could possibly be wrong with that? Vapour trails are just nice, clean steam.
But that one looks a whole lot dirtier, doesn't it? And there's the remnants of another, across the X, horizontally.
This was snapped just before it got dark, and I presume that has something to do with it. For some reason, this particular vapour trail was not lit. High clouds blocking the sun from it, but not blocking the sun from lighting us down on the ground? Or the older vapour trail, the one that's white? I don't know.
What I do know is that if vapour trails always looked this dark and dirty, there would surely have been a lot more talk about restricting air travel even than there is. Air travel would long ago have become more expensive.
Now, you could say that clouds are often this dark too, presumably for similar reasons. But clouds look natural. This vapour trail looks like mechanised evil spewing into the sky. It looks, in other words, just what the environmentalists have finally persuaded a lot of people that it is, despite usual appearances to the contrary.