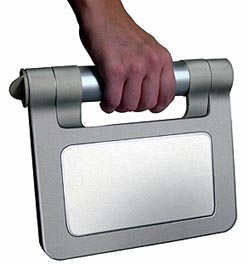 This is a very cute design.
The $100 laptop computers that Massachusetts Institute of Technology researchers want to get into the hands of the world's children would be durable, flexible and self-reliant.

The machines' AC adapter would double as a carrying strap, and a hand crank would power them when there's no electricity. They'd be foldable into more positions than traditional notebook PCs, and carried like slim lunchboxes.
I reckon some quite old children might fancy that.
I have recently been trying to equip myself with the perfect bag for wandering around London with, on my photography expeditions. And I can tell you that a rigid handle like that is massively preferable to handles which are floppy, because of being made of cloth or floppy leather. Floppy handles crush the fingers. But hard handles can be hard to find.
Please forgive all the phallic innuendoes in the above. And I am now reminded that there is even a reference to "lunchboxes". Good grief.
More reportage and links, from the BBC, here.