A week ago I was in Hampstead for a supper date with Jackie D and Antoine, and was somewhat delayed in my journey, by a sunset. All had seemed normal and grey and dreary when I set out on my journey from the heart of civilisation to the outer edge of 0207 land. But when I emerged from West Hampstead tube station, I encountered some extraordinary sunlight crashing in across the railway bridge. There was a break in the clouds right where the evening sun was. Out came the Canon S1 IS!
Trouble is, cheap digital cameras, at any rate in my hands, are not necessarily at their peak of performance in conditions like these. The drama in what you see is in the spectacular contrasts between the bright bits and the dark bits, between where the sun is and where the clouds are, or between the bright orange buildings lit up by the sun, and the dark clouds behind them. I'm sure there are ways of dealing with all that, knobs I could twiddle, but I don't know about them properly.
Here is a photo which illustrates the problem.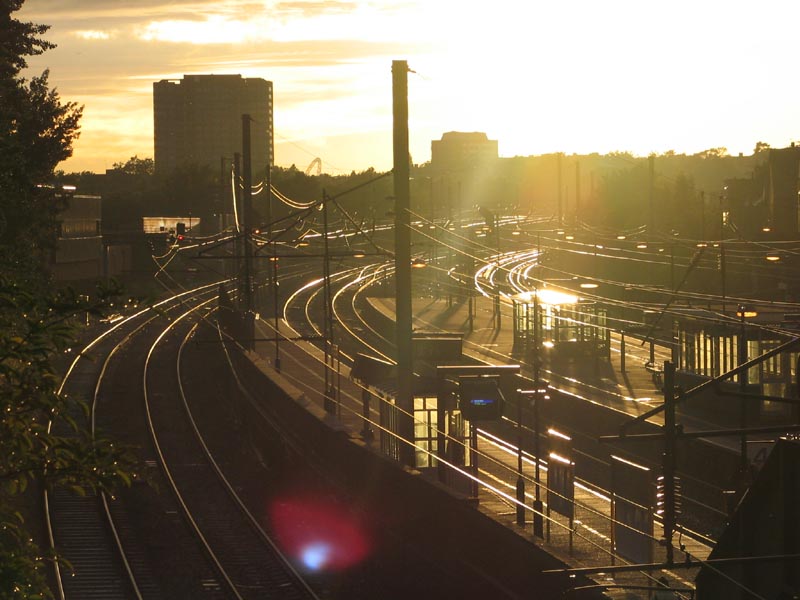 Basically I just stuck my camera over the parapet and hoped for the best, and because of all the rails, regularly polished by trains, I got some nice effects. But look at that sunset! Just a blaze of pure white. It was more interesting than that, believe me.
The purple splodge is some kind of camera thingy effect, or so Bruce the Real Photographer told me when he dropped by. A more devoted Photoshopper than I, such as Bruce the Real Photographer, could remove it, but I am a puritan about Photoshop. I think Photoshop is for sizing, cropping, brightness, contrast, and nothing else. Cutting things out is Stalinism. It is also too much like hard work.
However, there were some photographable sunset effects to be observed, which I snapped away at more in hope than expecation, but which did come out quite well.
Click to get any of those bigger.
The light here is coming in under the high clouds and lighting up the interesting low clouds. I know, I know, you've already seen pretty sunsets. But for me, this was a little victory, and this blog is all about me and my needs.