On Christmas Day and the days surrounding it, my trickle of readers becomes even less of a trickle than usual, so the chances are that you are reading this posting, if at all, not on Christmas day itself, but rather some time in early January, doing a catch-up of what I have babbled and blogged about over Christmas, just as it is your occasional habit to do a catch-up of recent stuff here at other times of the year.
Nevertheless, if you are one of the self-selected few reading this today, only minutes or hours after I posted it, I wish you in particular a very …: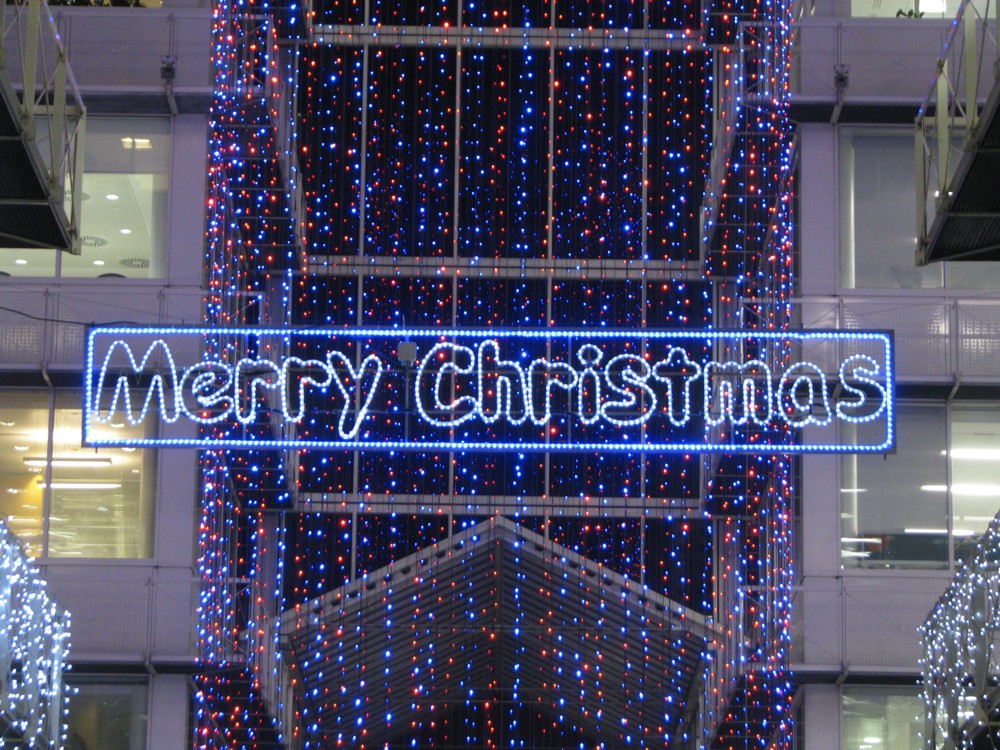 As I reported yesterday, I did a little walkabout yesterday morning, and I walked past many shops. But I didn't see any signs saying things like that. How could you say that, in the window of your shop, totally closed for the duration, without sounding sarcastic and getting just broken glass or graffiti for saying such a thing? Or worse, of appearing to accuse passers-by of being the kind of heartless bastards who intend to have a merry Christmas and screw the rest of humanity? You couldn't. Maybe its different in the less affluent parts of London, but in my vicinity, "Merry Christmas" is surely being spoken quietly but it is not being publicly proclaimed, in lights or in any other way.
Which means that above photo is from my photo-archive, having been photoed (in or next to (guess) the then still rather new Victoria Station shopping appendage) in the run-up to Christmas 2010.
I have other Christmassy things that I may or may not get around to reporting from my walkabout yesterday morning, but I just wanted to get that basic message up and posted, especially, as I say, if you are reading this on the actual day itself. Merry Christmas. You won't want to go around shouting this in the streets to strangers, as I have myself sometimes done in the small hours of Christmas morning when returning home on foot from a Christmas Eve feast with friends. But, I hope you are having one nevertheless.