The things you find in your photo-archives, if you are someone like me and you forget two thirds of what you've photoed as soon as you've photoed it.
This bloke, for instance, whom I photoed somewhere or other in London, I think somewhere near Embankment tube station, way back in 2006: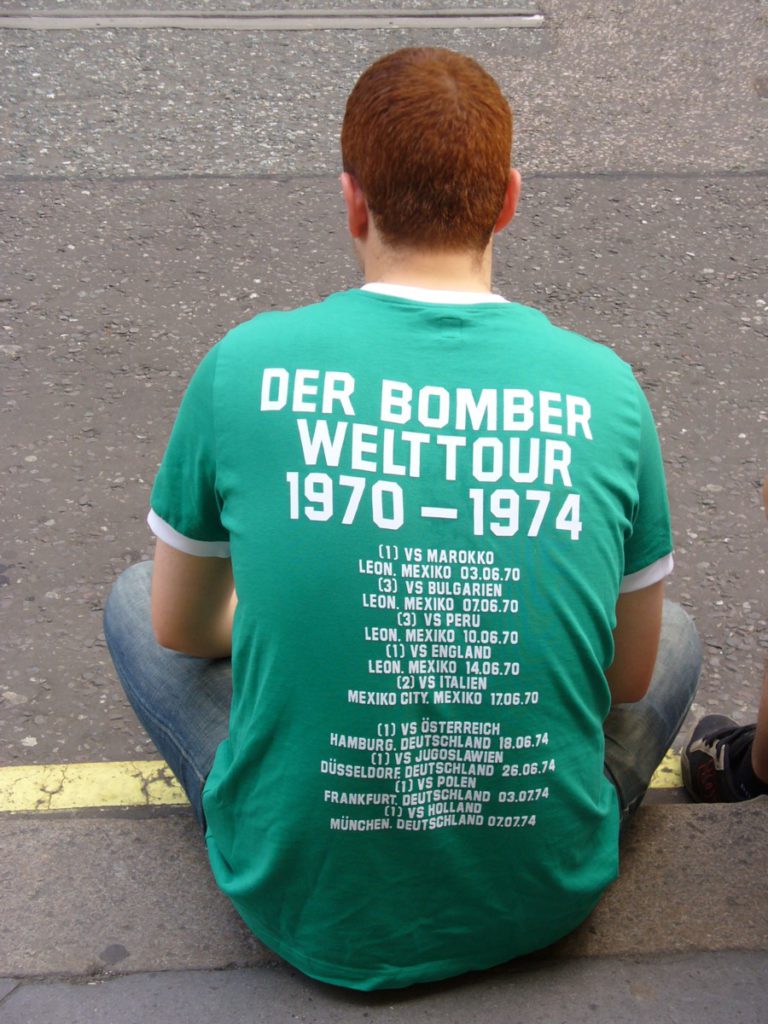 You see lots of shirts in London with stuff like this on the back, and without reading the small print, I assumed, as I surely assumed at the time I took the photo, that this was a reference to some sort of rock and roll combo, travelling and doing gigs in various places. In this case, it was probably techno-pop, because that's the sort of music something called "Der Bomber" would do. Bit of a tactless name, though, if they're trying to make friends while performing in foreign parts.
It was only when I googled "der bomber" that I discovered that this shirt was celebrating the German footballer Gerd Müller. And he wasn't trying to make friends with foreigners. He was trying to beat them at football, and more often than not succeeding. And nor was he really having a "Welt Tour". He was playing in the World Cup, in 1970 in Mexico, and then in 1974 in … Germany.
Photo and learn. Blog and learn.
The passions that used to attach themselves to bombing now have to find another outlet, and that outlet is now, mostly, sport. I believe that in recent months we have experienced what a gap is left in our world when sport is lacking. The sooner our politicians feel able to allow people back into sports stadiums, there to cheer on their preferred "bombers", the better.