A while back I was walking along by the River, just upstream from Lambeth Bridge, and photoed this photo (number 5 of these) of the China Works Tower (thank you commenter Alastair for identifying it):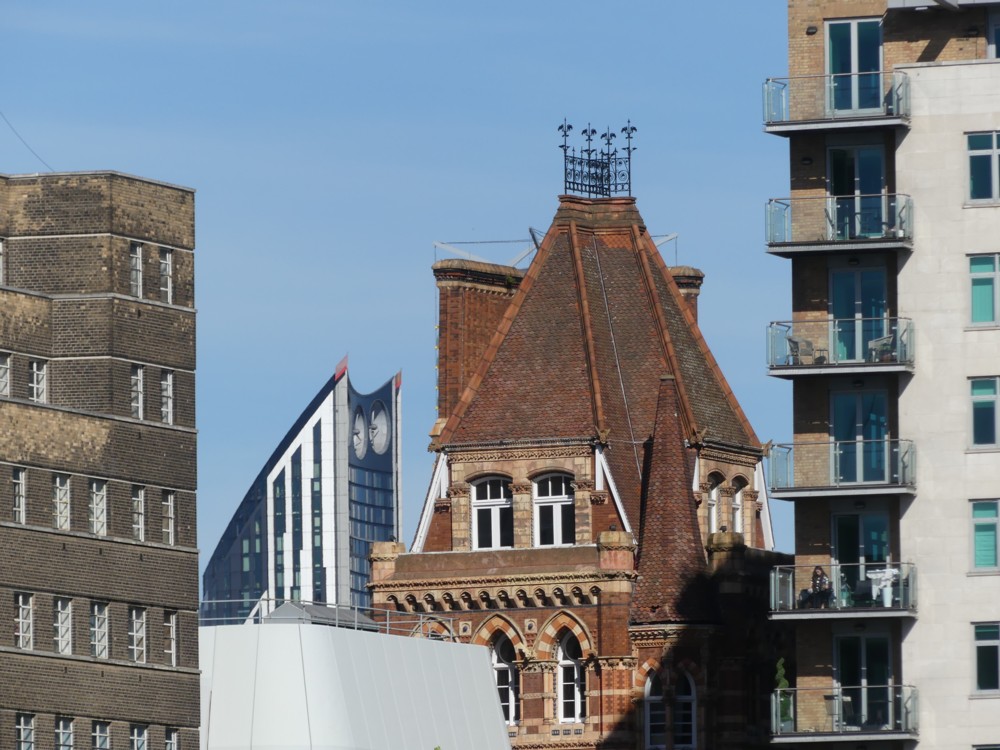 Also a while ago now, I went back there, yes, to photo stuff like all the signs at the other end of that link, but basically to check out this China Works building from close-up:
In an earlier posting here about would-be applier of architectural decoration Adam Nathaniel Furman, I said:
Furman intends to apply ornament with colourful abandon.

But, not the old sort of ornament that the Victorians liked to do, and against whom the original Modernists reacted with such disgust. …
Well, the above photos are of just this old sort of ornament, the sort that Furman doesn't want to do. But, technologically, he intends to use very similar techniques. Ceramics. Also known as: China. (Odd that, naming a material after the big old country where they got the idea from. Are there any strange things called, in foreign parts, Britain or England? So, how's your meat? Okay, but it could use a dash of Britain. Your skirt's falling down, try using an England.)
This China Works Tower is surrounded and jostled aggressively by modern buildings, designed by the sort of people who grew up believing all the old sort of ornament to be an aesthetic abomination, or at the very least an aesthetic dead-end.
The most aggressive architectural jostler is a fire station, immediately the other side of a very narrow road. Which happens to be the start of Lambeth High Street, which is odd but there you go. Here are photos I took of all that jostling, with the fire station in the middle photo here:
You can see the white roof of the fire station in the photo at the top of this posting.
Luckily, the China Works Tower is not entirely isolated, and is hence not totally smothered by later buildings. It was once only a small part of a bigger collection of buildings, and a decent chunk of those earlier buildings remains, attached to the Tower and keeping it company:
There was a lot of sunshine and shade colliding on the facade of the Tower, so that doesn't look so good there. But the blander, less decorated and bigger stretch of the old building was easier to photo, as you can see.
I shouldn't grumble too much. At least the Tower survived, along with a chunk of the earlier buildings it presided over. The Tower was the architectural advert, so to speak, for a real business, one that survived longer than most Victorian-era enterprises, way past World War 2. And then the Tower was saved by an early manifestation of the Conservation Movement, in the form of two rich fogeys, aesthetically speaking. The link above, in paragraph one of this, concerning the history of this place and what they're now doing with it is well worth a follow, so here is that link again.
I wouldn't want London to consist only of such ornamented antiquities, but I am glad that quite a lot of such oddities still survive, and that they now look like having a decent future, to follow their distinguished past. And I am glad to have lived long enough to have experienced a time when this past can be easily learned about. During the last century, I would see such a building, wonder about it for about one minute, and then forget it and move on to the next equally baffling oddity.