I've been dipping into Howard Goodall's Big Bangs, which is a book (based on a BBC TV show), whose subtitle is "The Story of Five Discoveries That Changed Musical History". I have started at the end, with Bang Number Five, which was when Edison recorded sound. Here's what Goodall says about the impact of the nascent sound recording industry on the life and career of Enrico Caruso (pp. 218-220):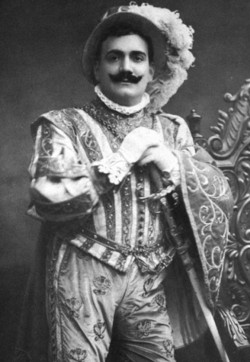 Enrico Caruso was one of seven children born to a working-class Neapolitan family living in the Via San Giovanello. He received his first singing instruction as a choirboy in a local church, and as a teenager he made a few lire every night singing favourite Neapolitan songs for the cafe customers on the harbour waterfront. He began work in a factory, but eventually he was able to turn professional with his outstanding voice. After a shaky debut in Naples – he vowed never to perform there again – he was invited to sing at the holiest of all opera's shrines, La Scala, Milan. It was here in March 1902 that Fred Gaisberg, the Gramophone Company's European representative, heard Caruso performing in Franchetti's popular opera Germania. Gaisberg offered the young unknown a deal to record ten arias for £100; Caruso duly accepted the offer, to the horror of Gaisberg's London office, which tried to forbid the spending of 'this exorbitant sum'. Gaisberg, however, backed his hunch, using his own money. That April, in Suite 301 in the Grand Hotel, Milan, the ten records were cut, beginning with 'Studenti, Udite' from Germania. Gaisberg went on to recoup his investment thousands of times over – and the records earned his company a fortune.
Most of the ten masters made on that occasion remain in perfect condition to this day. After their release, Caruso's fame spread dramatically throughout Europe and America. He made two recordings, in 1902 and 1907, of the aria 'Vesti la giubba', from Leoncavallo's opera I Pagliacci, which between them sold over a million copies. I Pagliacci was at this time a relatively new opera (it was given its first stage performance in 1892), based on a recent real-life criminal case. It's hard to find a modern equivalent for this – a modern opera being as commercially successful as I Pagliacci. Even the hit records released from the shows of Andrew Lloyd Webber are based on stories from the past (Evita is probably his most contemporary non-fiction subject). As for the work of contemporary 'classical' composers, the thought of Harrison Birtwistle writing an opera which included a million-selling song is, let's face it, laughable.
Caruso was to the early gramophone what Frank Sinatra or Maria Callas were to the LP, what Elvis Presley and the Beatles were to the 45-rpm 'single', and what Dire Straits and George Michael were to the compact disc: the 'software' of the music that drew listeners to the 'hardware' of the machines and materials. He was the first recording megastar, as much a household name in his day as Charlie Chaplin, prodigal son of another medium also in its infancy. Caruso's voice had a timbre and range that perfectly suited the limitations of the medium, it could soar and tremble with such strength and depth that the background hiss and the indistinct accompaniment were all but forgotten. To many people, hearing him scale the summits of high opera was both miraculous and moving and this was not just their first experience of the true potential of the gramophone but also a gateway to the whole classical repertoire.
Edison's humble contraption was to become a universal gift with the popularity of Caruso, catapulting classical music out of the small, exclusive world it had hitherto known.
The Gramophone and Victor Companies were buoyed by Caruso's success. What's more, all the other top singers now wanted a piece of the action, hurriedly dropping their objections to the quality of the medium once they realised that it could make them rich. The female equivalent of Caruso was Nellie Melba, an Australian soprano with a peach of a voice, and a good head for business, who held out until she got £1,000 – and her own label in passionate mauve.