Blogging as I just was about romantically linked birds, I recently transferred a posting about a couple of geese, which I did on Christmas Eve 2014, from the old blog to this blog, which was a big improvement because this posting featured thirty three photos of the happy couple, and viewing them is now a whole lot quicker and easier than it was.
Here is the photo number one of that clutch of thirty three …: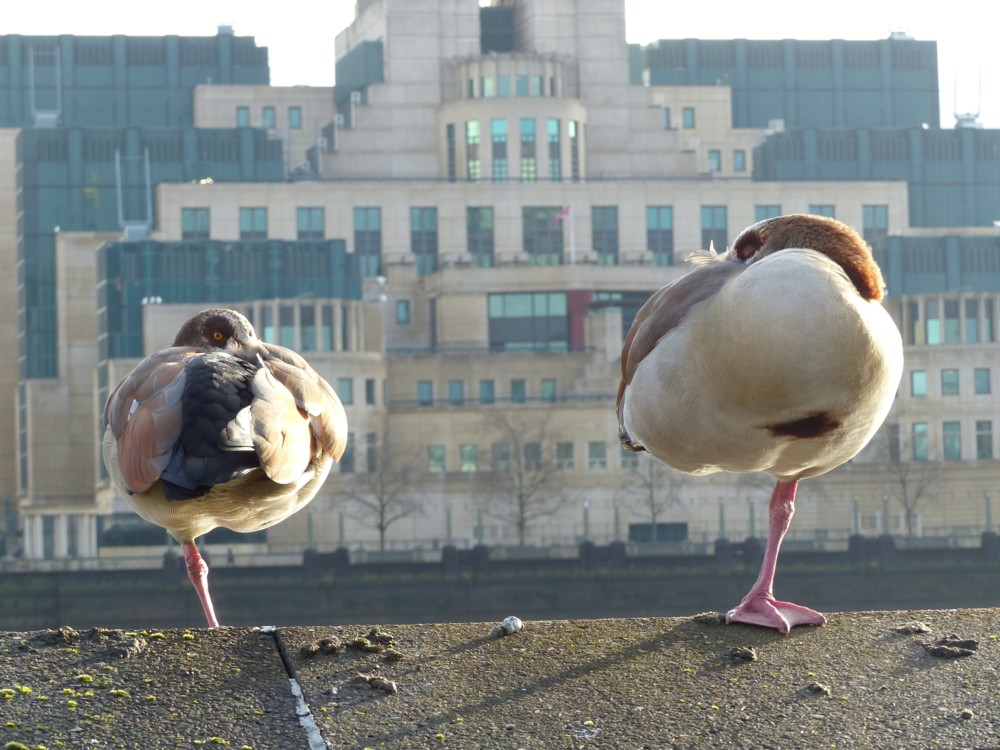 … and I really recommend you check out the other thirty two.
On Tuesday afternoon, at my end of Vauxhall Bridge, on the left as I approach it, I checked out the very same spot where I had photoed all these highly recommendable photos. Perhaps I thought I would meeting the original objects of my photography back in 2014, again. And rather to my surprise, I did encounter a couple of geese who looked very like the two I had originally photoed:
Sadly, I fear that "looked very like" is as far as it went. I had hoped I might have spied again the original couple, but this I now greatly doubt. There are now many of these geese in London and they breed fast.
I know this because I finally managed to identify what brand of bird these four birds all are. I googled "brown eyed goose", and everything became clear. They are Egyptian geese. That's a link to a Guardian piece about these geese. The Guardian loves them because the warmer weather we've been having lately has enabled them to flourish here. The Guardian loves warmer weather. Warmer weather, to the Guardian means that the world ought to have done to it permanently what the Coronavirus is only doing to it temporarily.