A feature, by which I mean a bug, of Growing old is that all the heartfelt love songs of earlier times are now recycled by their original performers to sell sofas, deodorants, food, etc..
All I Want For Christmas by Mariah Carey is one of my most favourite pop songs, long before sophisticates came around to realising how good it was. (Same with Abba. I loved them from the moment they won Eurovision, before even the Gays noticed them. With the greatest pop songs of a certain vintage, the rule was: Me, Gays, Girls, The Public.)
But now, it turns out that all Mariah Carey really wants for Christmas is …: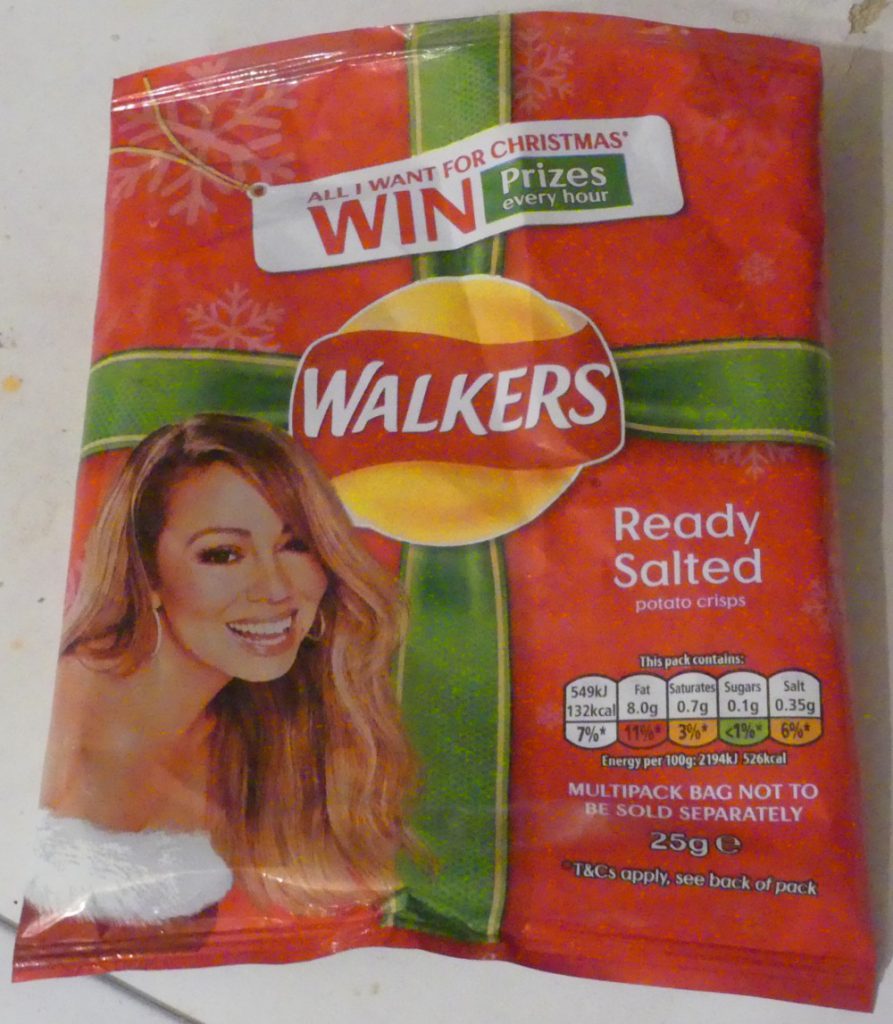 … a packet of potato crisps.
Personally I like potato crisps, hence my possession of this crisp packet. But, I despise almost all crisp advertising. What crisp advertising ought to say is: Yes, our crisps are probably bad for you if you scoff too many of them, but they taste terrific, even the plane old salt-flavoured ones. But oh no. Instead, they bribe celebs whose successes in life have been based on not scoffing crisps or similar products, to tell the rest of us to do this, by pretending that they do too, and thereby to imply that crisps are good for you. The more you scoff them, the thinner you'll be and the better you'll be at football, and you'll be athletic enough to win an Olympic medal.
The thing is, though, that Mariah Carey has had serious difficulty staying slim, and she might actually be telling the truth, in now claiming to prefer crisps to the sort of boyfriend she could have when she was young and effortlessly slim and when the world was at her feet.