So there I was in the City of London, during the early evening of November 23rd 2012, photoing all that there ever was of The Helter Skelter that never was, and in among all that I also photoed the Heron Tower. The one that used to be called the Heron Tower, which they tried to call the Salesforce Tower, but which remains the Heron Tower: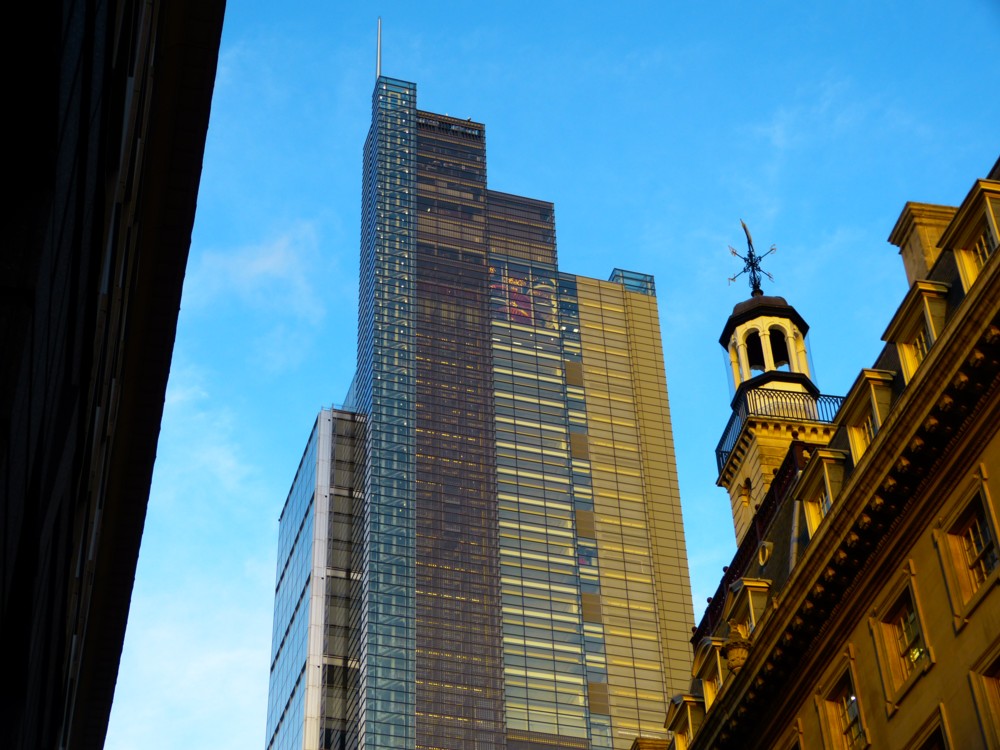 That being a photo that wouldn't be worth showing here, except that the reason I photoed it was that it explained and supplied context for this next photo, which I had photoed a few moments earlier: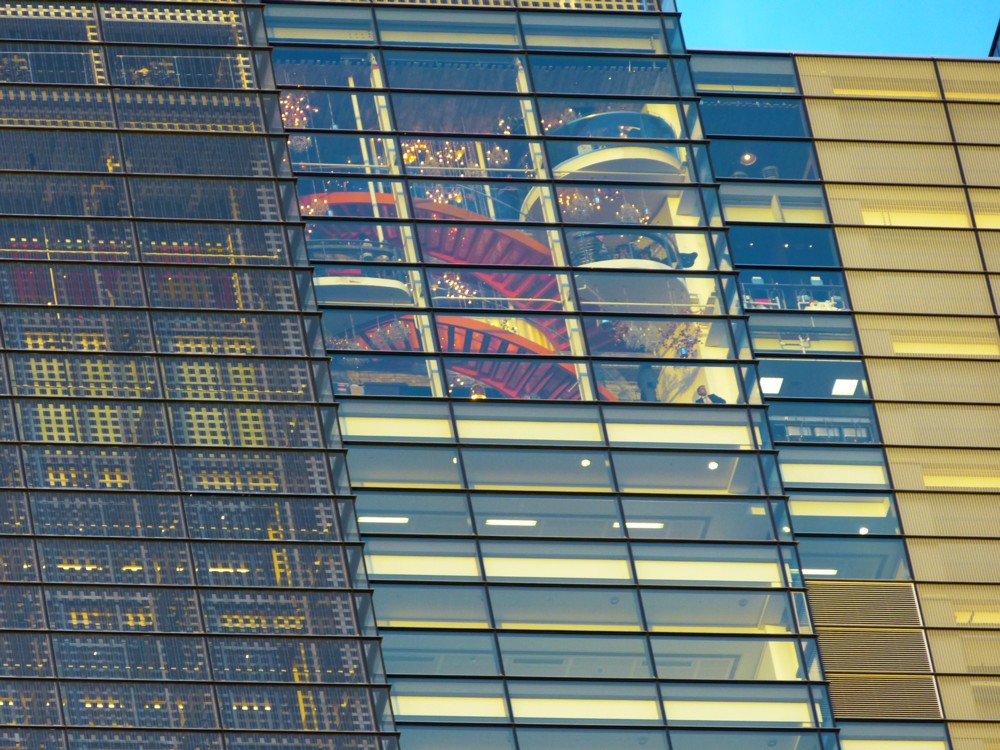 Let's take a look at what we see there in more closer-upper detail: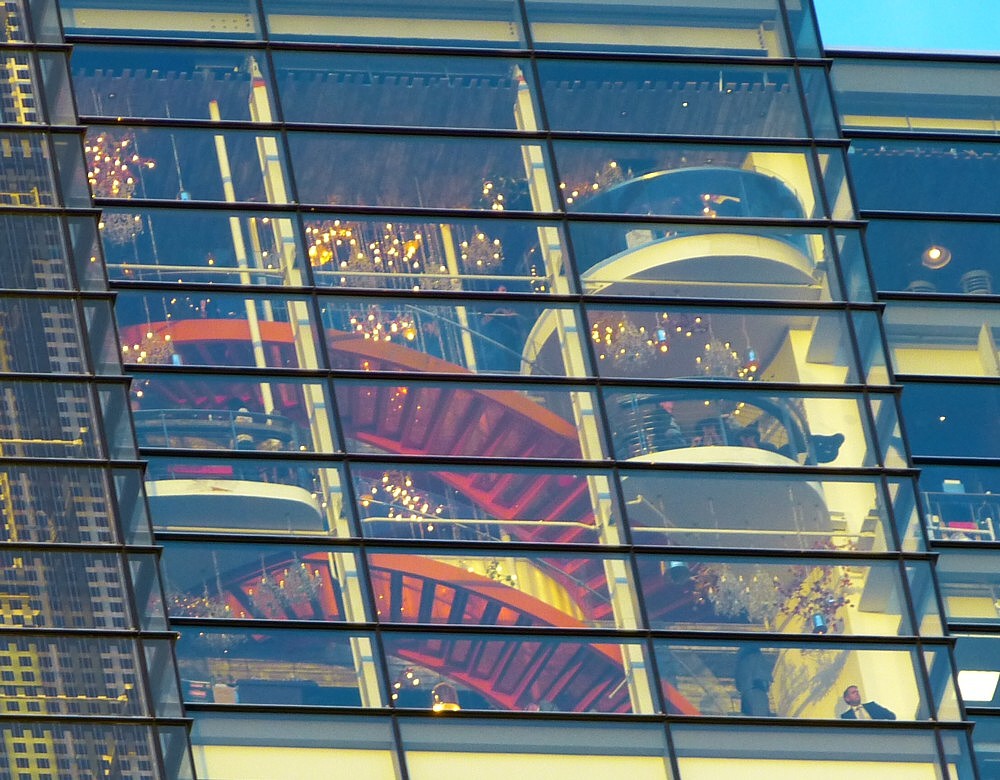 I like how we have that bloke bottom right, telling us the size of everything. It's bigger than I'd have guessed without him there.
It's not often you get to see inside the tops of towers like that. It helped that it was early evening, because that's the time when artificial light starts to assert itself, but there is still enough natural light outside for the outside of the building to be clearly visible also.
I went a-googling, to try to find out what was and maybe still is going on in there.
I found my way to this photo: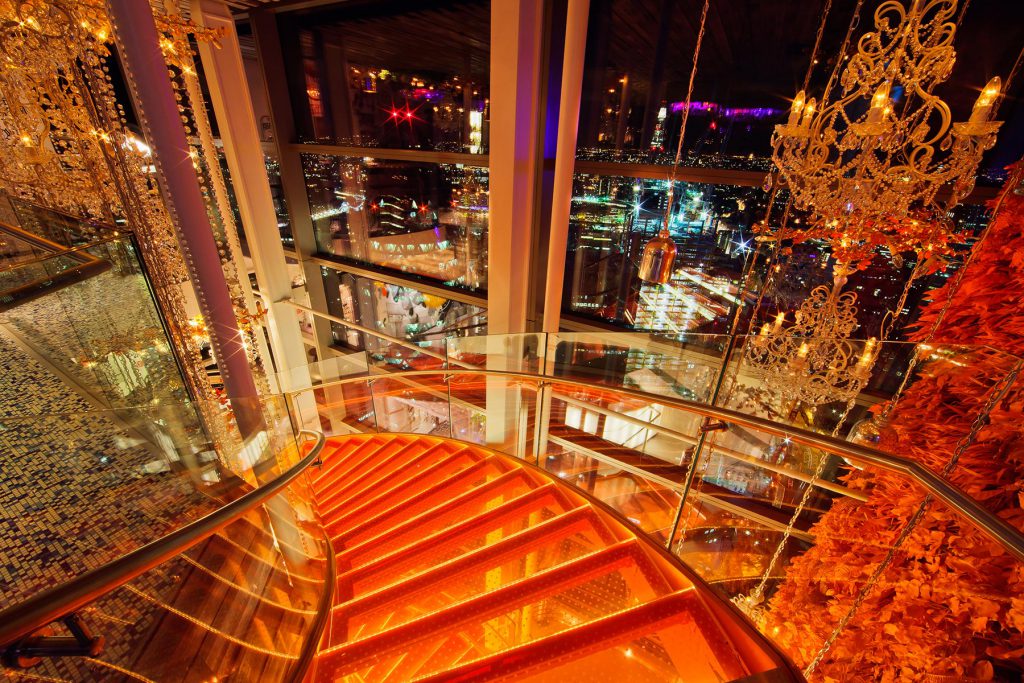 Curved red staircase, clearly at the top of a tower. That had to be it. And when I googled "red staircase heron tower" and that same photo came up, that settled it.
Two names kept coming up: Sushi Samba; and: Duck and Waffle. Had Sushi Samba perhaps closed, some time around 2017, and been replaced by Duck and Waffle. Sushi Samba sounds like the sort of one-off foodery that opens, and then closes; while Duck and Waffle sounds more like a tried-and-tested formula, of the sort that replaces one-off fooderies that are closing. Was that what had happened?
These people, who did the interior design for this place, explain:
This floating "culinary village" is set in a three-story crystalline volume at the top of Heron Tower, the tallest building in the City of London. The space is home to both SUSHISAMBA London, the renowned Brazilian/Peruvian/Japanese restaurant, and Duck & Waffle, a unique 24/7 restaurant that is inspired by British artistic and culinary traditions. A sweeping sculptural orange glass and metal staircase connects all three levels, decorated by a wall of street art.
So, both tried-and-tested business recipes and both happening there from the get-go, which presumably happened when the Heron Tower really was "the tallest building in the City of London".
Another enterprise I learned about was the guys who actually built these staircases. And oh look, they also do roof clutter. Memo to self: get back to that site and have a deeper rootle around. For instance: they built/worked on that bizarre bit of roof clutter on top of the Guy's Hospital Tower.
But the most enticing thing I found while scrabbling about trying to work out the SushiSamba/Duck+Waffle story was this very enticing photo: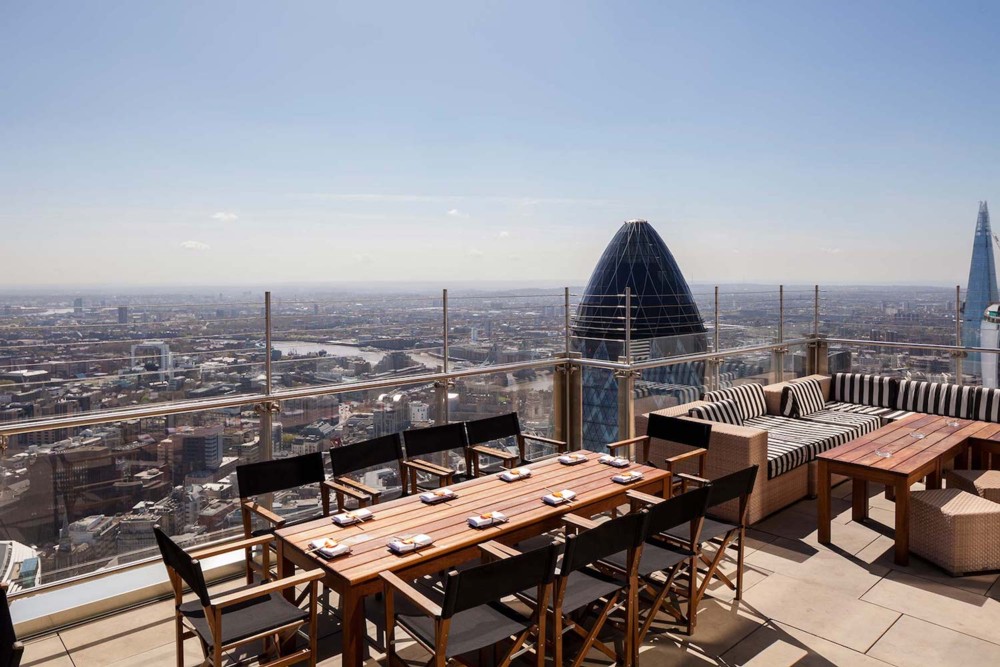 That photo being one of these.
According to GodDaughter2's sister, you can just go up there, with no airport checking-in crap, like it's a regular place on the ground. I guess the Heron Tower isn't reckoned to be "iconic" enough to merit counter-terrorism theatre.
Another memo to self: go up there.