Today, thanks to GodDaughter2, who is a singing student, I got to see a dress rehearsal of a new opera being staged by English National Opera called Jack The Ripper: The Women of Whitechapel. I had my camera with me, but these places don't encourage photography, so I was assuming I'd emerge from the Coliseum with only the memories of what we'd seen and heard.
The story was, of course, gruesome, and GodDaughter2 grumbled about the lighting, which was relentlessly dark and depressing. However, the music was pleasingly tonal, drenched in melodies, and most especially in harmonies, of a sort that seemed, in my youth half a century ago, like they'd vanished from the world of new opera for ever.
Back in that stricken post-Schoenbergian musical no-man's-land, posh music was thought to "progress", like science. And it had progressed up its own rear end into unmelodious, unharmonious, unrhythmic oblivion, and because this was progress, no way back was permitted. But then, that was all blown to smithereens by the likes of Philip Glass and John Adams. Iain Bell, the composer of Jack The Ripper, operates in the musical world established by those two American giants.
So even though we were about a quarter of a mile away from the action, up near the ceiling, and thus couldn't make out anyone's face, just being there was a most agreeable experience.
And then come the curtaln call at the end, there was another nice surprise:

That being the final surtitle of the show, to be seen in the spot up above the stage where all the previous surtitles had been saying what they had been singing. So I got my camera out, cranked up the zoom to full power, and did what I could.
The curtain calls looked like this:
I was particularly interested in the lady in the yellow dress, on the right of the four ladies (guess what they all had in common), because that lady was Janis Kelly, who is GodDaughter2's singing teacher at the Royal College.
Rather disappointingly, for me, was that most of the photos I took of Ms Kelly were better of the lady standing next to her when they were taking their bows, a certain Marie McLaughlin:
But I did get one reasonably adequate snap of Ms Kelly, suitably cropped (the photo, I mean) to remove Ms McLaughlin, whose nose had been sliced off in the original version that had emerged from the camera: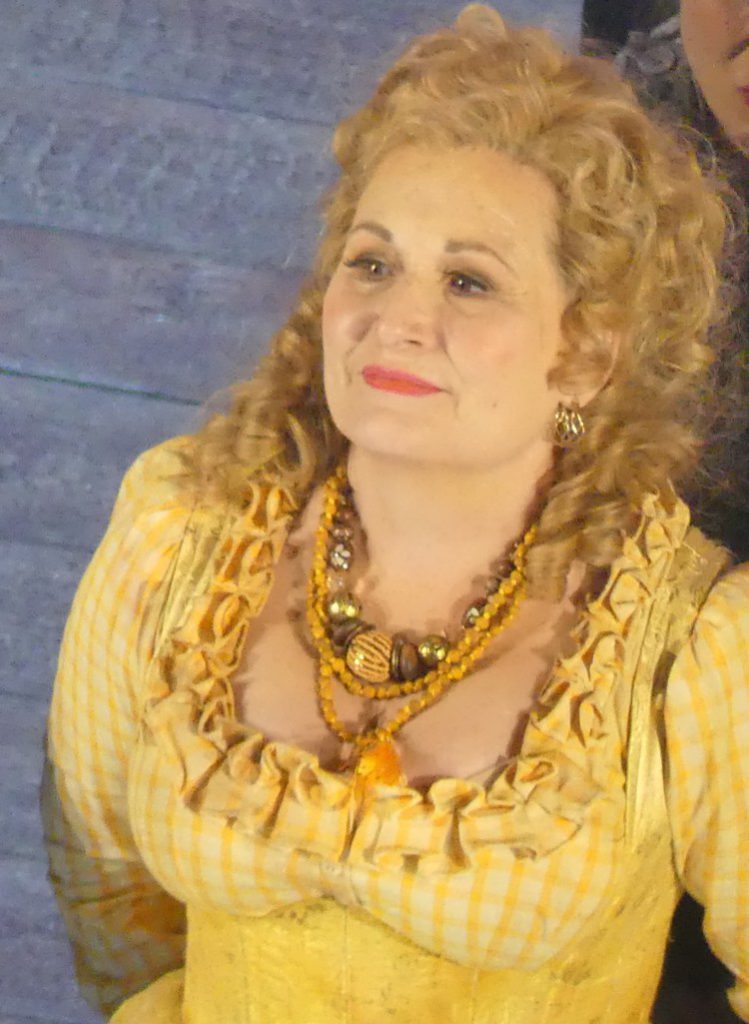 My camera now has much better eyesight than I do, and the gap seems to grow by the month. Okay, that photo is rather blurry. But there was a lot of zoom involved. I only managed to decipher about a third of those surtitles. One of the key members of the cast was black, but I only found this out when I got home and saw her in one of my photos (see above).
I hope a DVD, or perhaps some kind of internetted video, of this production emerges. And I think it might, because this is a show full of pro-female messages of the sort that appeal to modern tastes, and featuring one of the most spectacular exercises in toxic masculinity in London's entire history.
I'm now going to read the synopsis of the show at the far end of the first link above, to get a a more exact idea of what happened.