You know how it is. You go hunting, in your voluminous photo-archives, for a favourite recent photo, and damn it, you can't for the life of you find it. But you find other nice photos, and you stick them up on your blog instead. We've all been there.
But today I did the opposite of that. I went looking for some nice photos to stick up here, and discovered a very favourite photo, which I had previously searched for without success.
This photo was photoed outside Westminster Abbey and looking up Victoria Street. You can surely see why I like it.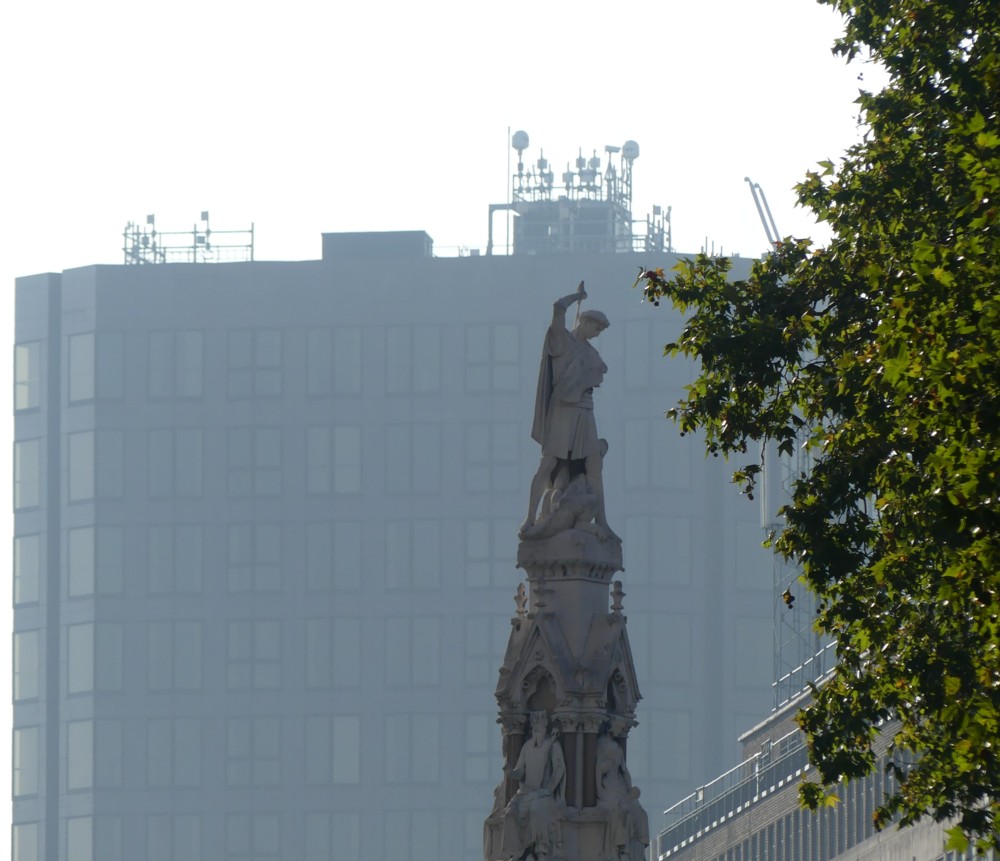 Number one, it's a statue. I like statues, because I do, and in particular because they tend not to be mass produced, which means they immediately tell you where you are. You are next to this statue. There it is. You can't be anywhere else. Knowing where you are is, I think, greatly to be preferred to not knowing where you are. But even worse is when by the nature of the objects around you, you cannot learn where you are, because all the objects in your vicinity can tell you is that you could be anywhere.
And, number two reason why I like this photo is that behind the statue, and with the most prominent bit of it clearly lined up to be directly behind the statue but safely above it, there is roof clutter. Not roof clutter that is uniquely voluminous, but still pretty good. And mistily lit, in such a way that the building upon whose roof the clutter is cluttered does not upstage the statue by rendering it invisible.
The greenery on the right and the building bottom right I am less keen on, but they are, I hope you agree, not too annoying. To the left, there was some somewhat more annoying stuff, which meant that the cropping on the left isn't ideal. But all-in-all, I like it a lot.
The statue is this one. And the building behind it is called, at any rate by people trying to sell you office space in it, Windsor House. I know it as that quite Big Thing next to the Albert.
This being Friday, is there a Cats or Other Creatures connection? Well, yes: cats. Big cats. Four lions which are to be seen at the bottom of the column upon which the bloke scratching his back with a backscratcher is perched. These lions do not appear in my photo, but there are there, at the bottom of the statue.
Also, the bloke on the top who seems to be scratching his back with a backscratcher is actually St George, and he has a dragon under his feet, which he is getting ready to clobber with a sword.