I remember, during the reign of President Bush Jnr., how I used to blog about how photography was used to glorify President Bush. Well, here's another political photo of a rather similar sort, which has been an open window on my computer for some time: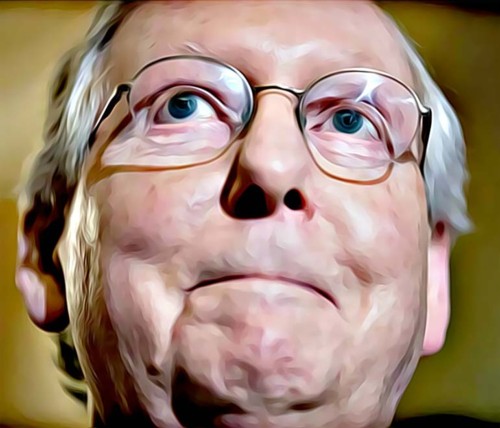 What I find entertaining about this photo is the extreme contrast between the clearly very humdrum appearance, for real, of the old guy in the photo, and the way that (I suspect) pushing just one Photoshop button has turned this same guy into something almost heroic.
The headline above the photo is telling:
The most consequential conservative leader of the century? He's still alive, in office and owed an apology
The old guy in the photo-edited photo is US Senate Majority Leader Mitch McConnell, whom the Tea Party people used to regard as a waste-of-space sell-out, but who is now being lauded to the skies by the Trumpsters.
Says Jewish Chronicle writer Marc A. Thiessen:
While President Trump deserves credit for making outstanding judicial nominations, long before Trump declared his candidacy McConnell was laying the groundwork for a conservative transformation of the federal judiciary. It was, he told me in an interview last week, "entirely premeditated."
McConnell reminds me of a particular American actor, whom I recall having seen in a number of movies. Trouble is, that actor is the sort of actor you recognise the face of, but whose name you never quite register. It's that sort of face.