I recall speculating here (by quoting Bill Bryson) that a reason why Modernism is so monochromatic is that there was a time about a hundred years ago when the two hardest colours to get right in painted form, and hence the two most modern colours, were: black; and: white.
Early, monochrome photography was also a big reason for architectural modernity not to care about colour. The most modern buildings were the ones that looked like black and white photos.
This has been a long time changing, but changing it finally is. There was Renzo Piano, and his brightly coloured buildings near Centre Point in London. And now here comes this, by Jean Nouvel: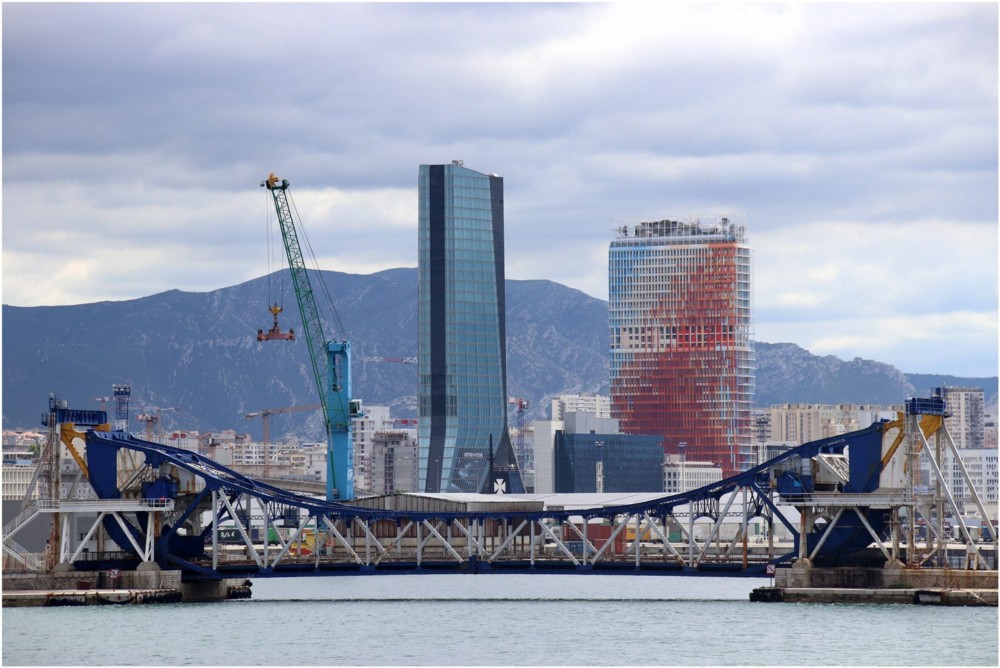 It's the right hand of the two towers that I'm concerned with here, not with the other tower, or not with the crane or the bridge, bonuses though the latter two undoubtedly are.
Jean Nouvel has tricked his tower out in red, white and blue. It's in Marseille, and is called La Marseillaise.
My immediate reaction is: a bit of a mess. Looks like he did this with three cans of spray paint, and in about twenty seconds. But, if I got to see it in the flesh, with all the complexities of the detailing, I might well like it a lot.
But my opinion about the beauty or lack of it of this building is beside my point, which is that colour is finally creeping into fashion, as part of architectural modernity.
It has taken a long time, because architectural fashion always does take a long time. This is because architects, unlike more regular artists, peak very late, a bit like classical conductors and for the same reason. Which is that architects (like conductors), in order to peak, have to be very powerful, by which I mean, liked and supported and paid for by lots of other powerful people. Powerful people tend to be old.
And sure enough, when I looked up the architect of this tricoloured tower, Jean Nouvel, I learned that his is now 73, having been born in 1945. In other words, he is now entering the architectural promised land, that land being where he can design buildings exactly as he pleases, and the clients build them and reckon themselves lucky to have got him.
I could now add other coloured modernism photos, and make further points about why this trend is now happening, and happening so powerfully. But the trick with blogging is to keep it brief, and if a subject matters to you, to come back to it again and again, while linking back to earlier pieces which make the same big point.
So, expect plenty more here about coloured architectural modernity.