Yesterday I attended a Master Class at the Royal College of Music, in which five singing students, GodDaughter 2 among them, were publicly instructed by distinguished tenor and vocal teacher Dennis O'Neil. It was fascinating. He spent most of the time focussing on the art that conceals art, which meant that I couldn't really understand what he was saying. The minutiae of sounds and syllables, and of where the sound comes from, in the head or in the body. All like a foreign language to me, but it was fascinating to expand the range of my ignorance, so to speak. I am now ignorant about a whole lot more than I was.
This all happened way down at the bottom of the RCM, in the Britten Theatre (which you go down to get into but the theatre itself stretches up to the top again), On the way back up the numerous stairs to the street level entrance, I saw, through a very grubby window, and photoed, this: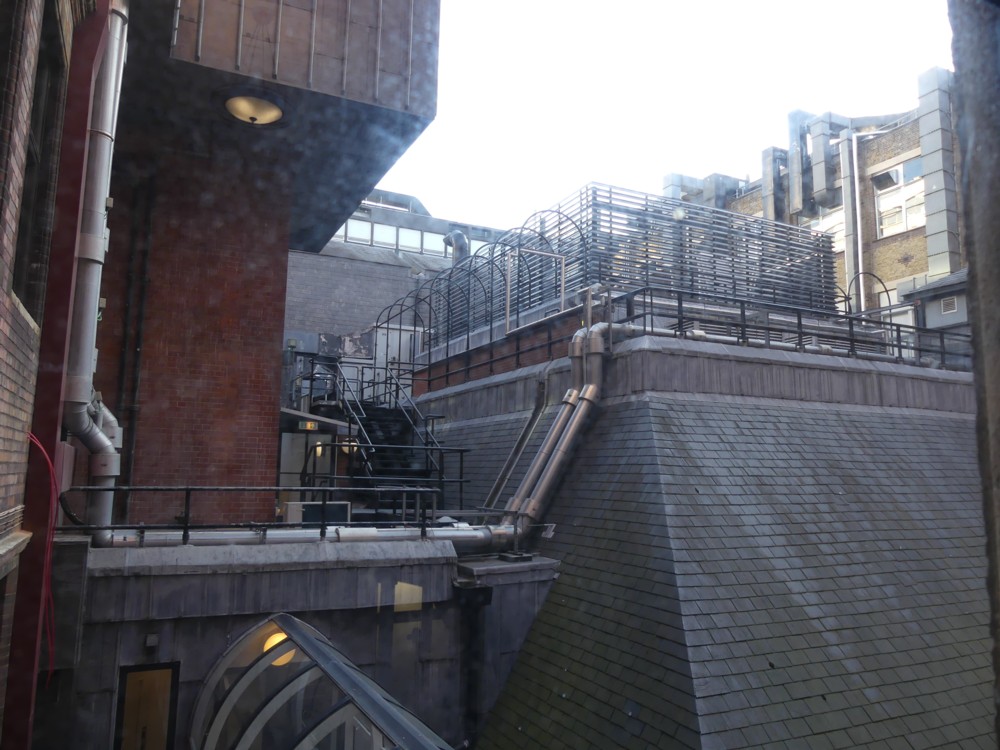 Okay the window is indeed very grubby, but, you know, how about that? All that roof clutter, buried in the middle of the College. Although, I think that this particular clutter is part of Imperial College, which is next door.
Backstage architecture, you might say.
The Royal College of Music is as amazing an accumulation of architectural chaos as I have ever experienced. It must take about half of your first year to learn where everything is, and years later you are probably still getting surprises. I never knew this was here! Etc.
That corridor made of windows, bottom left, with the light in it, is something I have several times walked along, to a canteen or a bar or some such thing, I think. By which I mean that I think I have walked along it, but that this could be quite wrong. Like I say: architectural chaos. I took a look at the place in Google Maps 3D, but I still have only the dimmest Idea of where I was on the map.
The night before, I was at the Barbican Centre, also for some music, and that's almost as architecturally chaotic as the inside of the RCM. But there, they don't have the excuse that the architectural chaos accumulated over about a century of continuous improvisation. At the Barbican, the chaos was all designed and built in one go.