I like doing podcasts, and have recently resumed doing this. The difference between these and earlier efforts is that I am not making the mistake of trying to be the interviewer, a role which I have learned, the hard way, that I am utterly unsuited to.
I do not, however, like doing podcasts because I assume that I will reach a huge audience with my brilliant insights and opinions. Rather is it that I deepen my friendships with the people I share the microphone with. The first is a mere outside chance. The second is pretty much guaranteed to happen.
Although neither I nor any of the other people whom I podcast with assumes that we will reach a huge audience, we know that we probably will reach some sort of audience, probably very tiny, of friends and acquaintances and general passers-by, and that means that we had better say things we have thought about and which we mean and which are worth saying. We need to be at our conversational best, just in case.
Compare that with two or three of us just chatting in a pub or an eatery or in one of our homes, but with no microphone on. The level of conversational intensity, so to speak, is, in those circumstances, far lower.
Almost all of my renewed podcasting activity has been with Patrick Crozier. I recall with particular pleasure the first of these recent efforts that we did about World War 1. Who else has listened in? I have no idea. But I listened. He listened. I can listen again, and I have, more than once, because so many interesting things, I think, got talked about.
More recently, I took part in a group podcast on the subject of freedom of speech, alongside Jordan Lee, Bruno Nardi and Tamiris Loureiro. On that occasion I can be sure that others were listening, because there was a room semi-full of people, listening, right there, in the Two Chairmen, where Libertarian Home meetings now all seem to happen.
The microphone that Bruno placed in our midst was distinguished by its size and its striking appearance. I photoed it: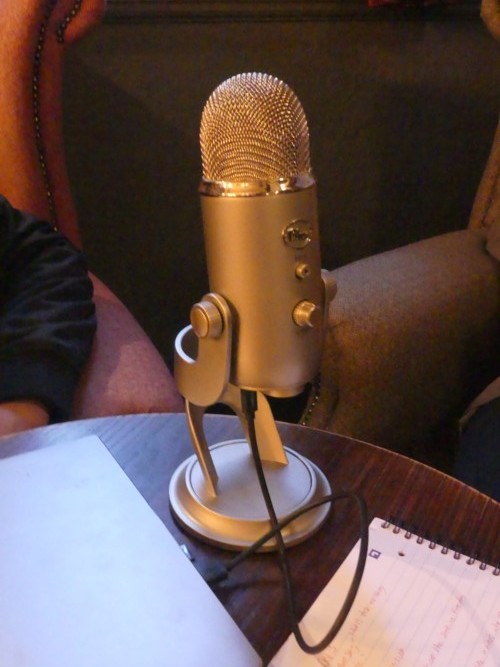 That photo, for me, illustrates the bigness of the difference that a microphone makes to a conversation. Jordan, Bruno and Tamiris are all slightly better friends of mine now than they would have been if we'd not done this.
Why then, do I not switch on a microphone during my Last Friday of the Month meetings? Maybe I will start doing this. But for now, I believe that a roomful of people, assembled to hear a particular person speak on a particular subject, achieves that same heightened level of attention and conversational concentration that a microphone achieves for a smaller group of people who are talking amongst themselves.
It is also helpful for speakers to be absolutely sure that their talks won't go straight to the www, and that means that they can confidently take an early shot at a new subject, with all the errors, hesitations and confusions that might occur. Ideas need to be nurtured and shaped and polished, and that is far easier to do if such early efforts are not being bugged.
This Friday, I have another of my Last Friday meetings. Dominic Frisby will be doing an early dry-run version of his Financial Game Show, which will be having a run of performances for real at this year's Edinburgh Festival. I'm pretty sure that me threatening to switch on a microphone during this out-of-town preliminary try-out version, so to speak, would have been a deal-breaker.
There'll be another early version for this show at the King's Head, Crouch End, on May 22nd. I attended the very first outing of it at the same venue last Monday, and I can report that I and the rest of the small crowd had a lot of fun. As Frisby reports at the bottom of this piece in MoneyWeek:
We had fun. My MoneyWeek colleague, Ben Judge, turned out to be the winner, prompting many in the audience to make accusations of an inside job.
Yes. This was a pity, because actually what came across rather well was how imperfect the knowledge of financial experts often is, and how other people, with direct experience of whatever it is, often know more than them.