Today I was in central London. It wasn't good photoing weather. Grim and grey and wet. But I did take this photo: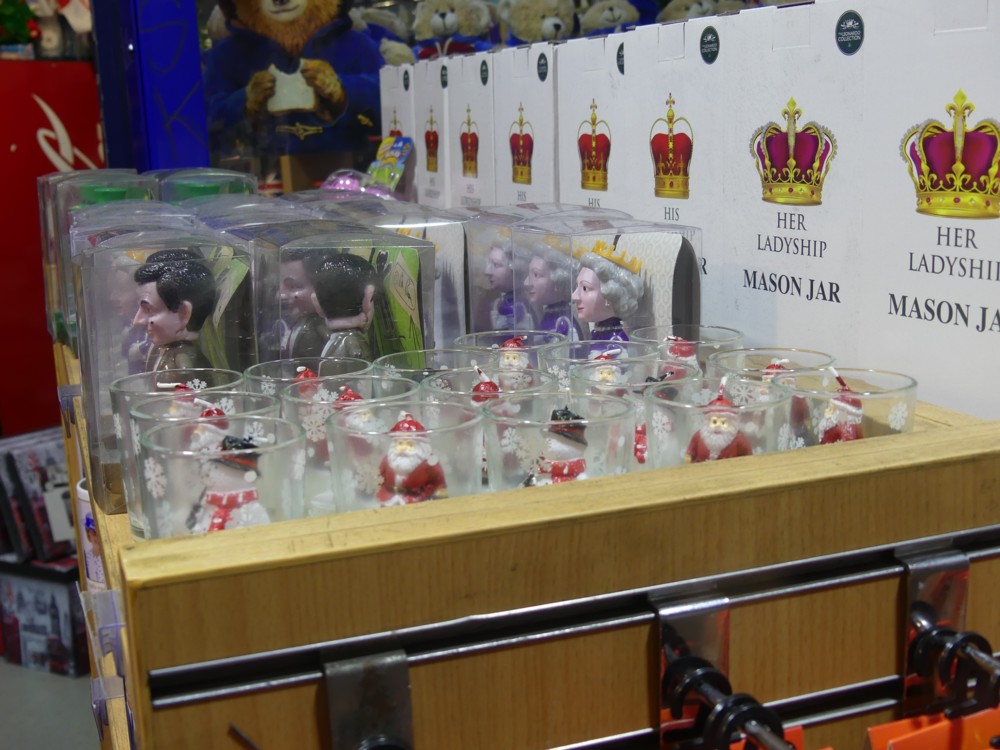 At the time, I thought I was photoing an army of Santas. For some reason I find the photoing of large numbers of similar or identical objects, in a big clump or clutch, to be rather satisfying.
But it turned out I was photoing two British Personal Brands With Huge Global Reach, namely The Queen, as performed by Elizabeth Windsor, and Mr Bean, as performed by Rowan Atkinson.
A lot of their appeal is that these are both characters who do a lot of physical stuff, rather than characters who talk a lot. Neither Elizabeth Windsor nor Rowan Atkinson are stupid or inarticulate people. On the contrary both are notable wordsmiths, blessed with famously subtle senses of humour. Nevertheless, the Queen's daily repertoire of stuff is adopting Royal poses and walking or being driven about Royally and making Royal gestures and doing Royal things like shaking hands with a line of lesser celebrities. And Mr Bean mostly makes faces and does pratfalls. These are things that anyone on earth can see – see – the point of with great ease. You don't have to know a word of English to get what The Queen or Mr Bean are all about. And if only a tiny percentage of the world's populace like what they see of these two characters, that is still a lot of people.
You see Queen and Bean together, in effigy, in tourist crap shops, a lot. That I photoed the two of them accidentally is no, as it were, accident.
Despite googling it, I still don't understand what this is about.