Earlier this month I was in the Hackney Wick area. My object was to check out that particular stretch of water known as the Hertford Union Canal, which is the straight line of water that connects what describes itself on maps as "River Lee Navigation", at the bit of that next to the Olympic Park, to the Regency Canal, at the bit of that at the south west end of Victoria Park. The Hertford Union Canal marks the southern edge of Victoria Park.
And I duly checked it out. As I said in that earlier posting, there's a lot of graffiti in that part of London, and the Hertford Union Canal is also thus decorated. Or violated, if that's how you feel about graffiti.
Here is an example of the graffiti to be seen, this time under some bridges which take the A12 and a local road alongside it across the canal: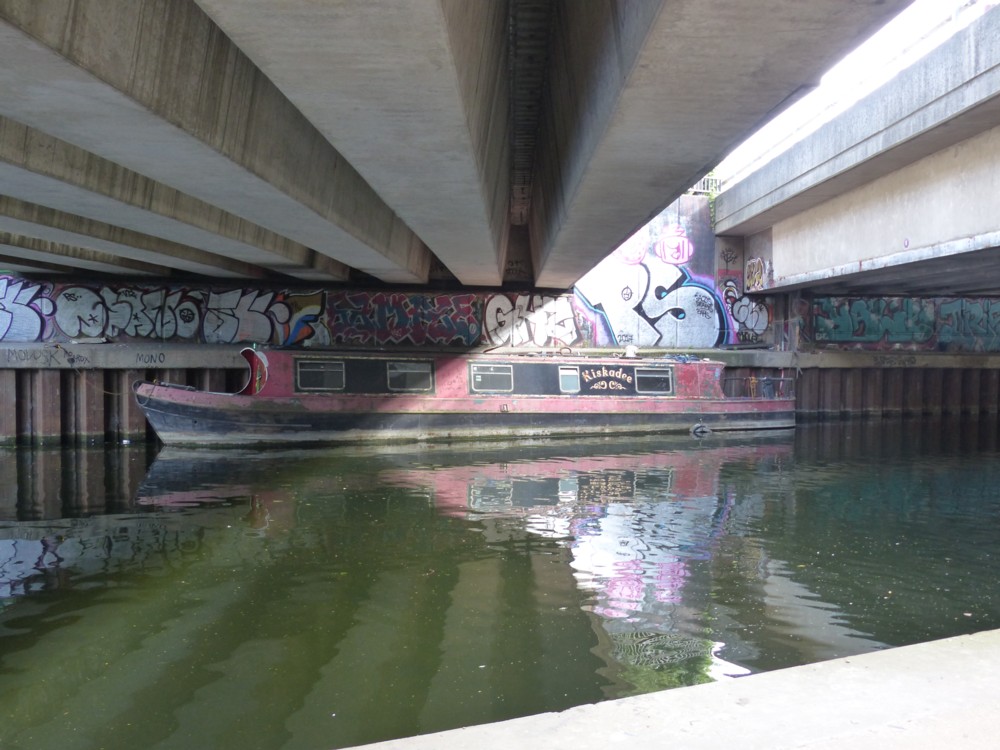 However, by the time I took that photo the ubiquitous graffiti had ceased any longer to register. What I was interested in was the light. Photography is light.
And look what the light did next: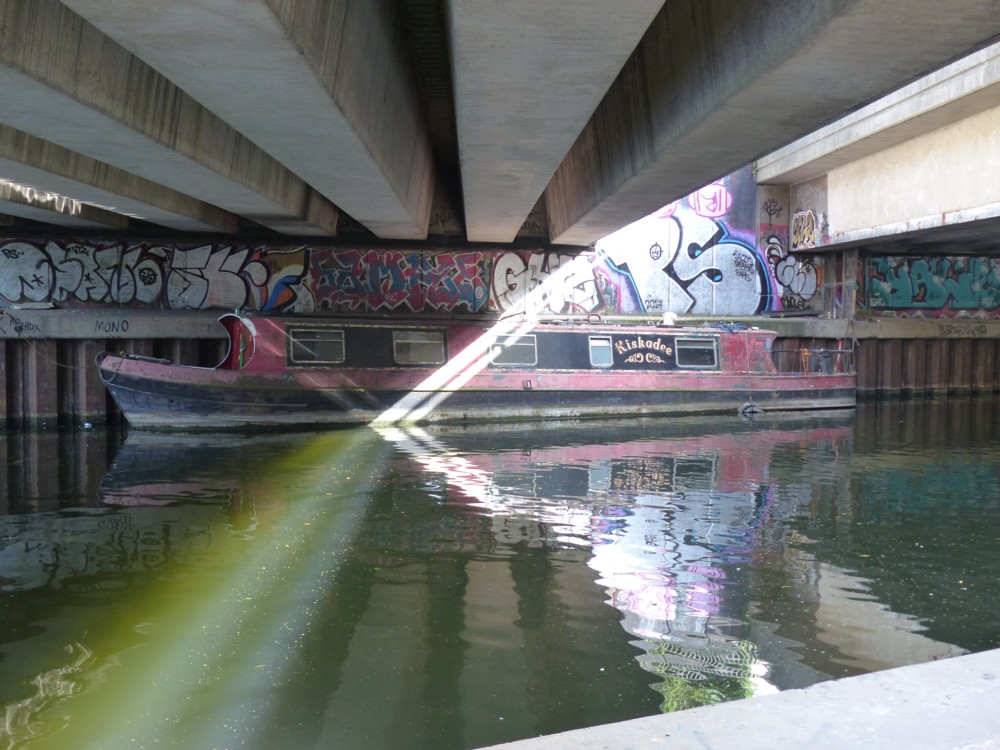 A mere splurge of light has been sharpened, presumably by the sunlight no longer being diffused by a cloud, and it is then being sliced into two distinct sheets of light by some kind of roadside fence or barrier (which you can dimly see in the top picture above).
Let's take a closer look at that light, and what happens to it when it hits the canal: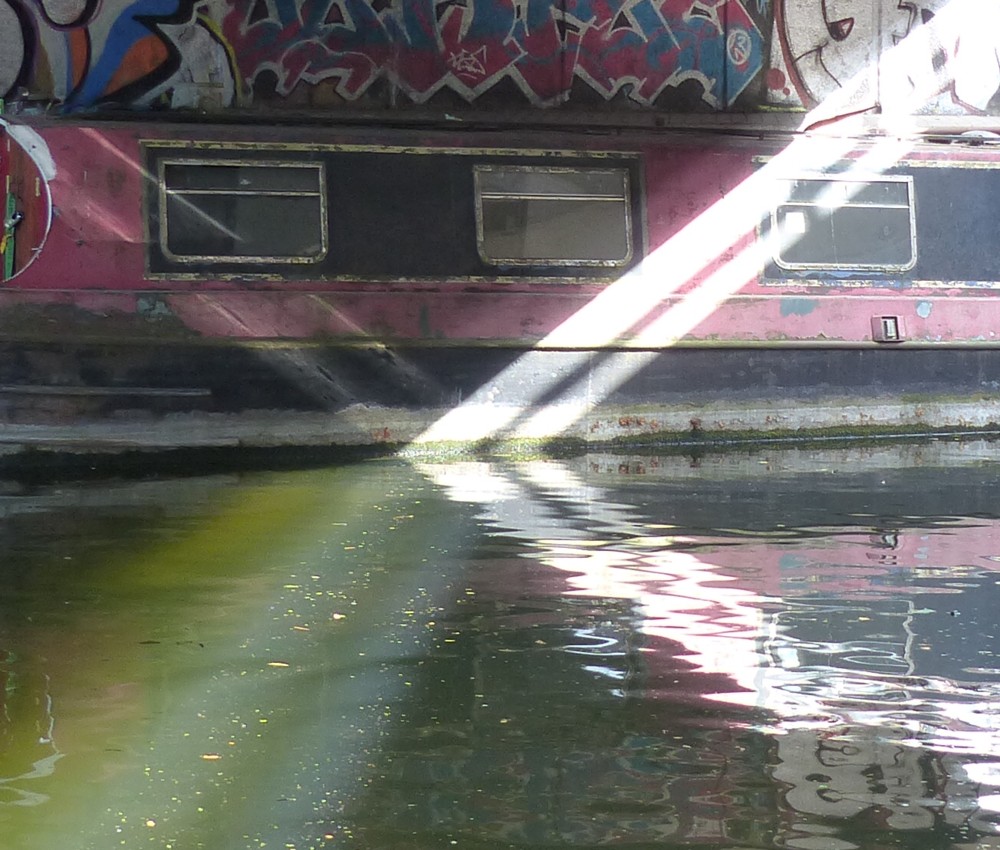 Okay, let's itemise what's happening there. We have here an X, with four arms.
Top right arm: the light slices between the bridges and hits the wall on the far side of the canal, and the boat parked on the far side of the canal.
Bottom right: what happens top right is bounced off the water on its way to me, rather than bouncing directly to me off the far wall and directly off the boat.
Top left, and now it starts getting a bit confusing: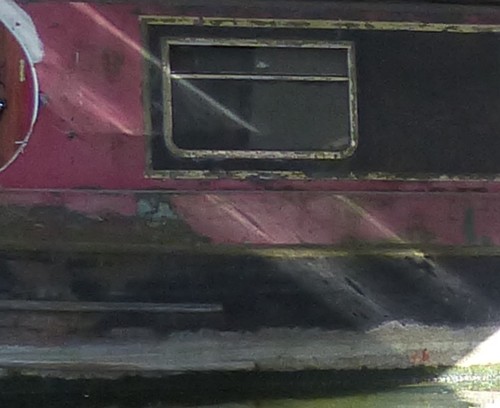 I think what we see there is the light bouncing off the water into the boat.
And bottom left? Now I'm becoming even more confused: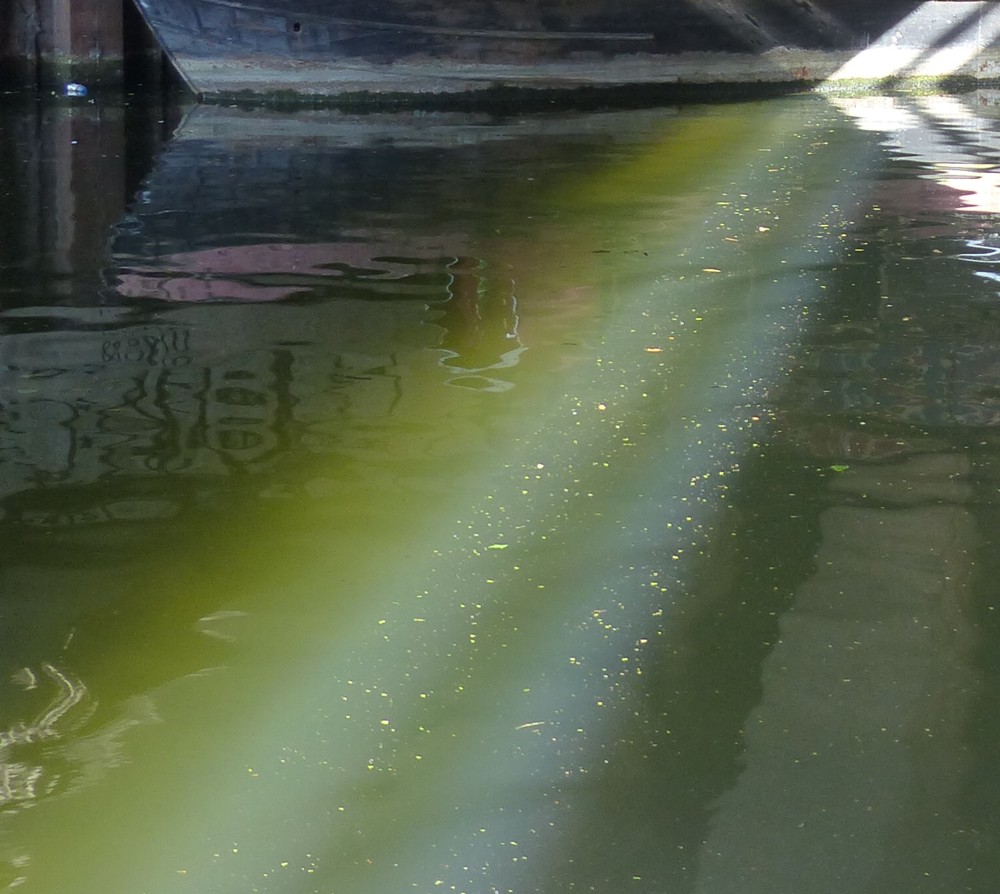 What I think we see there is the light directly striking the surface of the water, lighting up all the particles floating on it, and also penetrating the water and turning it green.
If someone painted a picture looking like all that, we'd say: you're taking the piss. Nothing looks like that. But, it did.