If you've not been there before, I recommend visiting Handpicked London. I've just been browsing through it, and found my way from it to Photographs of Tower Bridge being constructed are found in a skip, from December 2011, which I do not remember noticing at the time. (The first two of those are Facebook links, and maybe they don't last. You have to register, is what the second one just said.)
These photographs of Tower Bridge being constructed have been unveiled after a stash of hundred-year-old photos were found in a skip. The 50 sepia pictures, the most recent of which date back to 1892, reveal in incredible detail the ingenuity behind one of the capital's most popular tourist destinations.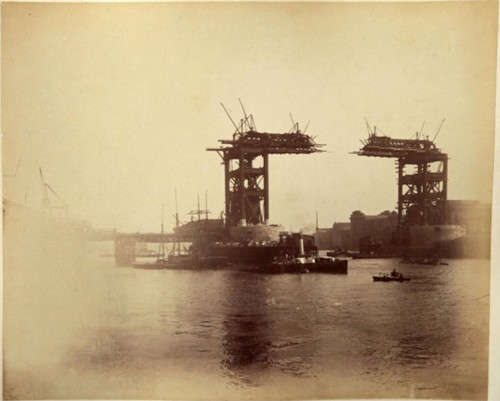 Hybrid modernism. Modern in its manner of creation. Ancient in appearance. An architectural style with a lot of mileage in it.
LATER: More stuff from me about towers here.