Further to what Alastair James said about the panoramic views of central London from Blythe Hill Fields, incoming from Rob Fisher:
Seen this? It's a gazillion megapixel panorama taken from BT tower. You can zoom in a lot.
I think maybe yes, but it's good to be reminded of such things.
Plus, I learned something, which is that I must check out these brightly coloured buildings just past Centre Point: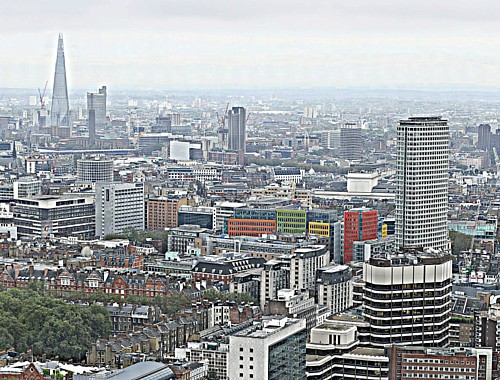 I wonder how such technicolor baubles as these will look in fifteen years time? Drab? Naff? There's a definite 1970s feel to quite a lot of architecture these days, especially for some reason in the vicinity of the Dome. Look out for (although I promise nothing) further postings here about that rather distressing trend.
There's lots more stuff happening around Centre Point, in connection with Crossrail, so lots of stuff to photo there. Or at least to try to photo. Sometimes building sites can't be seen no matter what you try.
Regarding the London panorama, this is but one of many such urban views, there being a website devoted to such things, panoramicly showing you cities all around the world. How long has that been going?
There's even an app. Above the button for that, it says:
Now with motion-sensitive panorama viewer!
Does this mean that you can hover two hundred feet above yourself? Taking virtual snaps as you look out from your virtual dirigible? If so, cool. And probably cool whatever it is.