Recently I have become included in the Libertarian Boys Curry Night gang. I know them all. I just hadn't been having curries (or in my case biryanis) with them every now and again, until rather recently.
During the latest such Curry Night (at an Indian Diner near to me (which turned out to be a good choice (I had a biryani))), one of the Boys showed me some photos of Singapore he'd taken with his mobile, of that huge thing that looks like a set of cricket stumps, for a game of cricket played in hell and painted by Bruegel.
I said, send me one of those, and he did, twice:
I show these photos here, because whatever you think of this Thing, it is certainly of architectural interest, in a misshapen and off-putting sort of way (or so I think).
But more, I show these photos because they actually are rather informative, especially the one on the left. That one especially shows context, in the form of nearby places and other nearby buildings. In general, you get a feel for what sort of place Singapore is.
In Real Photographer photos, you get buildings like this looking super-cool and super-glamorous, in other words not how they actually look like when you get there.
I've said it before and will say it again now. Real Photographers photo photos that are super-nice. Amateur photoers often photo photos which tell you more about what a place is actually like. So it is, I think, with these photos that my mate Tom took.
My low opinion of this Cricket Stumps Thing is perhaps shared by whoever compiled this list of 10 Super Cool Buildings in Singapore You Might Not Have Noticed Before, because The Stumps are not included. That's because you've probably already noticed them, rather than because it's ugly. But the implied point of the list is: we have other and cooler buildings, besides and unlike The Stumps.
One of the Cool Buildings in this list is something called the "Interlace" Apartments, which is that pile of blocks of flats, all rectangular and each very boring, but piled up like a child's set of big wooden bricks, all at angles to each other. There's a photo of this Pile of Bricks in the list, of course. But I prefer this aerial photo of it, that I found elsewhere, and which I'd not seen before: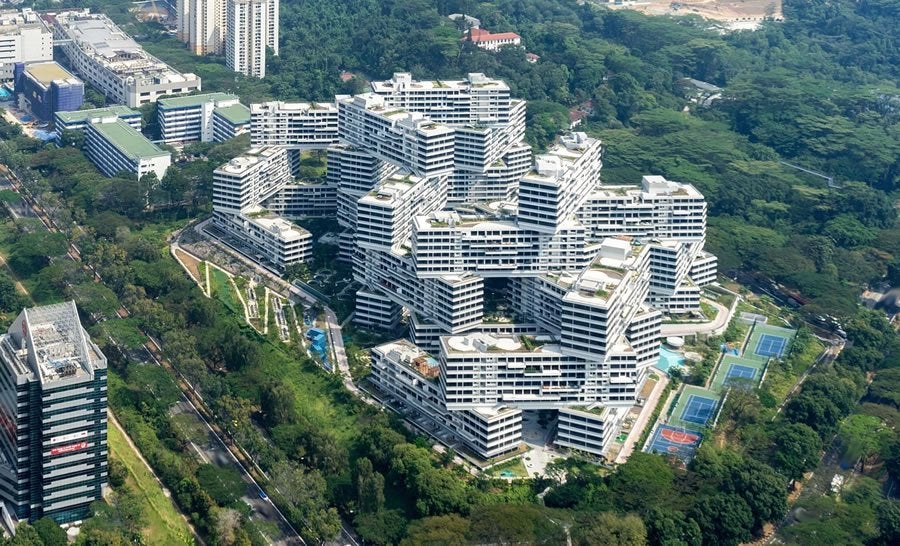 Once again, you get context. So I'm guessing: photoed from an airplane by an amateur photoer.
Tom's photos of The Stumps were not photoed from an airplane, but rather from a nearby building. You can tell this because both were photoed from the exact same spot, but the clouds are different. Ergo, he was still when he photoed them.